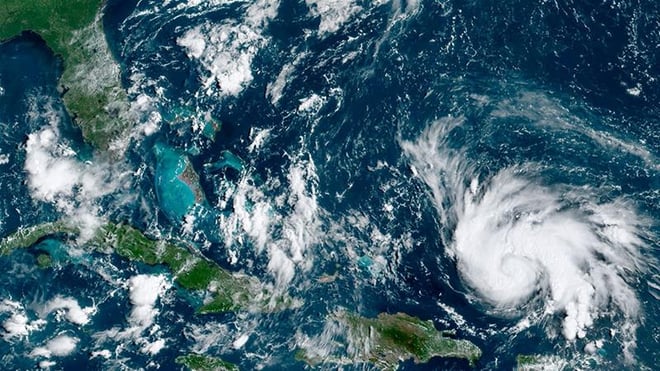 Whether your area is experiencing a hurricane, sub-zero temperatures, feet of snow and ice, or other weather-related emergencies, it's important that you are staying connected to your church during these storms. Not only are your members looking for information regarding service and event cancellations or modifications, but they also may be looking for assistance and support.
So, what is the best way to ensure that your congregation receives your messages? How can you alert people from every demographic in your church? And, what can you do to make sure they are getting the encouragement, support, and assistance they need?
The good news is that there are tools that your church can effectively utilize to reach the masses! But, it's important that you not only know what they are, but how to use them to their maximum potential.
Here are a few of our favorite tools your church can use to stay connected during a storm:
Your Church Website
Oftentimes, your church website will be the first place people go when they are trying to find information during a storm. Because of this, it's important that your message is communicated clearly and effectively. There are a couple things you can do to turn your church website into a communications hub.
Utilize an Alert Popup: these pop ups will be the first thing that viewers see when they arrive at your homepage. Popups demand attention and ensure that everybody who visits your website will see your message. When using a popup make sure that your message is clear and concise (example: Church Services cancelled January 3 due to Weather).
Create a Dedicated Page for Emergency Information: Having a dedicated page will give you a place to give updates and details about what is and isn't happening at your church during a storm. Include information on cancellations, modifications, rescheduled events, contact information, your social media accounts, and a link to your livestream or sermon archive.
A Pre-Recorded Message
One of the best tools you can keep in your toolbelt during a storm is a pre-recorded message that you can release if services are cancelled. If your people are stuck at home during a Sunday, one of the best sources of encouragement you can provide to them is an applicable sermon. This does require a little planning, but once it's done you will have it ready to go.
To do this, you simply need to work with your pastor or minister to record a message (bonus points if you incorporate music, age-specific ministers, and other elements of a normal service), and store it in your archives. Then, when a storm hits, release it on Sunday morning on your live stream page as if it were live on a Sunday.
The Right Online Giving System
When your church has to close due to weather, it's important that you offer ways to keep giving consistent even when people can't be there in person. The most effective way to do this is by ensuring your church has an online giving system in place.
The right online giving system makes it easy for donors to give anyway, anytime. Especially during a weather event, donors should be able to easily access your well-designed online giving page or text to give.
Be sure that your giving page is branded to match the rest of your site, is optimized for mobile, includes photos and information of what the money supports at your church, has a matching checkout page, and most importantly has a straightforward, easy-to-find "Give Online" button.
For more information on online giving, check out the Advanced Guide to Online Giving.
An Easy-to-Use Church Management System
Like online giving, having the right church management system (ChMS) is crucial to making sure you are staying connected to your church during a weather event.
Your ChMS can help you to set up plans, resources, and communication networks that you can leverage in the event of a disaster. It connects you with church members who are either affected by the storm, or who live close enough to volunteer in the event of an emergency. It can also help you identify and recruit members with specific and needed skills (medical, emergency response, volunteer coordination experience, etc.). Not only that, but the right ChMS can even enable you to assist authorities by making them aware of homes where small children reside.
During a storm, it's important that your members know that they are cared for. One of the best ways you can practically put this in action is to use your ChMS to assign and mobilize an outreach team to go out to the homebound and elderly to make sure they have all they need during the storm. This truly allows your church to be the hands and feet of Jesus.
Push Notifications
There is no better way to communicate with your congregation during a storm than to send out a push notification. A push notification shows up right on people's phones as an alert so it's nearly impossible to miss.
According to a study by MIDIA Research, more than 50 percent of smartphone users have push notifications enabled on their devices. This means that if your church downloads a church app, you can engage almost immediately with over half of your congregation.
Because it does send an alert directly to downloaders' phones, it's important to use this tool in moderation so that users pay attention when they do receive that notification. A great way to do this during a storm is to send out a notification one hour before your weekend worship services normally begin to remind your church that the campus is closed and that they can watch online instead.
Social Media
Lastly, it's no secret that social media is a great tool to use when it comes to engaging your congregation.
During a storm, make sure that you are providing updates, contact information, and links to your website and livestream page on all of your social media platforms. It's a good idea to create branded content ahead of time that you can quickly modify and post when needed.
We love this example from Eagle Brook's Facebook page:
Not only did they use a branded graphic, but they also spoke to their audience in a relatable way ("Hardy Minnesotans"). They also included details, encouragement, and hashtags.
Lastly, in preparation for a weather event, make sure that your congregation is aware and following all of all of your social accounts. You can encourage them to do this from the pulpit, in your weekly bulletin or e-newsletter, and on your website.
In Conclusion…
Even though you don't know when the next storm is coming, you can be prepared by making sure your church has the right tools to stay connected.
Instead of viewing storms as a communications nightmare, put a plan in place and view the storm as an opportunity for ministry. Reaching out, staying connected, and providing encouragement may be just what someone needs during a scary time. Who knows, maybe that will be just what they need to re-engage with your church and step back into a relationship with the Lord!
So, take some time now to put the right tools in place so your church will be ready for the next storm.