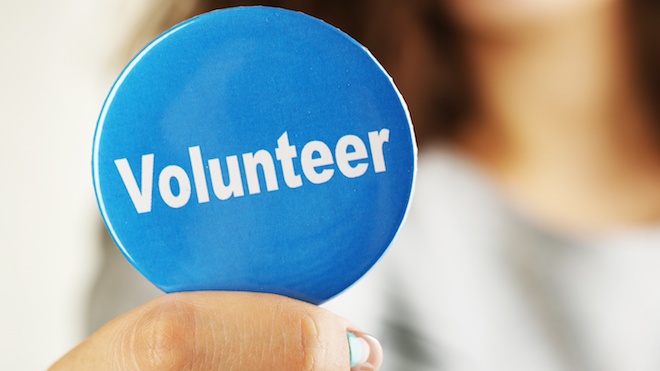 I can't help but picture the same situation every time we talk about coordinating volunteers for a church event: a woman with rhinestone glasses, a nice cardigan, and a slightly frazzled look upon her face as she scribbles on her clipboard.
The last time we talked about her, she was encouraging us to sign up for volunteer events and invest in service to your church. But this time, we're going to keep the focus on her. That clipboard is probably filled with names, dates, phone numbers, and event information––and there are even more bouncing around in her head that she hasn't had time to write down yet. She's leading an army of volunteers: a band of engaged, involved church members who are ready to volunteer their time and talents to serve their communities. She knows who's good at what kinds of things, and what availability works best for people.
She's good at it, but what she's doing (with all those pieces of paper and her multi-tasking mind) is a real pain. She needs a super sidekick to help her organize, sift through, and add to these lists of volunteers; she needs a great ChMS! And if you're in the same position, you need one, too.
To read more about what questions to ask yourself when choosing the right ChMS, download our eBook Nine Questions to Ask as You Consider a Church Management System.
4 Ways Your ChMS Helps You Be a Better Volunteer Coordinator
1. Contact an entire small group at once.
If you're this volunteer "wrangler," and you face a last-minute change to an event or detail, what do you do? You now need to alert 15 volunteers that they need to be in a different location. With church management software, you can do this quickly by sending a text, email, or voice message to an entire volunteer list or small group at one time. This leaves you with more time to focus on the event at-hand––knowing your volunteers will be in the right place at the right time.
2. Find contacts by group.
Inspiring your church to invest in service can be a tricky thing. You don't want to feel like you're pulling teeth or guilting anyone, but those ministries really do need volunteers to make their fundraiser or celebration happen as planned. You can't let them down!
The easiest way to recruit new volunteers is to tap into those who have already raised their hands at some point. For instance, if new members indicate what types of service they'd be interested in helping with on their initial forms, you can enter that information into a system to help you keep up with your current volunteer needs. If you're in need of people to run the lights at a Christmas service or help out with the video during a missions informational session, you could email everyone who had once said they would "volunteer as tech support." (Your church management software will group all of these people into a category, which you can contact all at once. If you get really organized, you can even separate those who are "willing" from those who have actually been "trained.") How great would that be!?
3. See previous volunteers easily.
Another great way to connect with willing and excited volunteers is to talk to those who have helped your church in a similar way in the past. Who better to ask for help in the new youth room than those who already help with other youth events every once in awhile? Or families with children the right age. These people could become some of your best, most engaged regular volunteers in the new youth room! Your ChMS will allow you to pull a list of these potential helpers and contact them quickly to see if they would like to be involved.
4. Access and edit information on-the-go.
With mobile integration or an app, your ChMS fits right in your pocket. You can access your cloud data on a phone, tablet, or really anything with an internet connection––so there's no more scrambling to find a sheet of paper or *hope* that you remember a correct date by the time you find your laptop. Even adding information to volunteer members' profiles and taking attendance are easy for you to do on-the-fly. This lets you focus on the who and why of your event because the how is much easier! You free up more time to coordinate and recruit new volunteers rather than transferring your clipboard information to a complicated spreadsheet or Google Doc that someone else can accidentally erase.