Download Nine Questions to Ask As You Consider a Church Management System, and be inspired about how easy it can be to manage your church office tasks.
A well managed church frees your staff and volunteers up for the real work of discipleship and relationship building.
Organizing your church doesn't have to be painful! To match the great work you're already doing in your church, you need a great ChMS that can keep up with and allow your team to fully express who you are as a church community.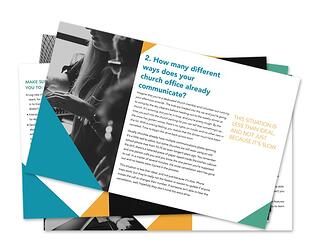 In this FREE eBook, you'll find:
The ChMS features you need to help your church grow and stay organized.
Nine stories of how e360 ChMS can help your church -- and people just like you!
Questions you should consider in your church leadership meetings.
And much, much more!
Read this eBook to find out how to choose the best church management system to meet these needs and MORE.
Fill out the form to download your copy!