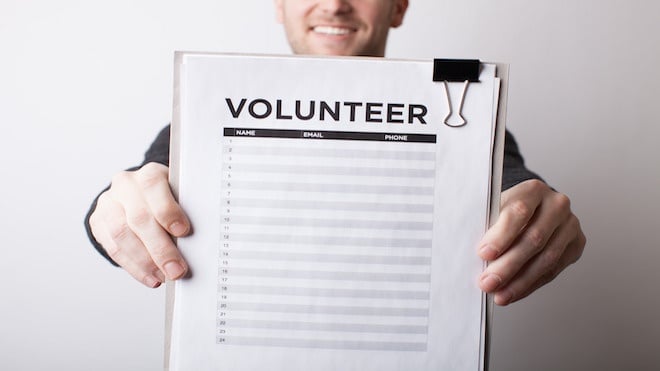 Does your church have that one person who's always walking around with a clipboard? I imagine a woman with rhinestone glasses and a cute cardigan. We all like her, but we all run and hide when we see her coming.
We all know she's going to ask us to do something, and it's usually not actually that hard of a thing to do, and we know we "should" want to do it. Volunteering is usually a great experience, but getting those volunteers to sign up usually isn't.
There are two main ways to address this awkwardness. Fix the method for signing up to volunteer, and cultivate a healthy motivation within your congregation to volunteer. You'll need to encourage your church volunteers to see service not as a chore, but as an investment in the worship and work of your church––it just takes a little "T.I.M.E."
Grow Your Church Volunteers

Tempo
People are busy. When they come to your church service, are they bombarded with opportunities to serve in announcements? Do you also send an email newsletter, build slides, set up displays in the lobby, make phone calls, promote volunteer opportunities on your website, or even chase people around with a clipboard? These can all be great ways to get people involved, but keep in mind how often you communicate with them.
This tempo sets the stage for the relationship between the congregation and church leadership. If a member receives 10 requests to volunteer in a month, but only talks casually with the volunteer coordinator once a year, this song is a little off-beat. Try to have your leadership team match the tempo of the "asking" to the rhythm of the "responding."
A practical way to solve this problem is to give your community the power to choose how often they want to serve, and the types of service they're interested in. Instead of promoting each and every event in the announcements part of every service, let your congregation know you're in need of volunteers for four new events in the next month. Let them know how they can sign up to volunteer by directing them to your website. This takes much of the repetition out of encouraging volunteers and lets them be the conductors.
A good volunteer management tool will allow you to gather contact info, skill and interest information, and announce times and locations, or any special training. This will help the people signing up feel like they are joining something that is already happening and is exciting.
Impact
Everyone likes to feel recognized. Much of this feeling is tied back to how helpful or useful we feel while helping a group accomplish a goal. Do this for your volunteers by helping individuals match their spiritual gifts with a need in the community. Are they great with children? Or skilled with fixing household problems?
Play to their strengths to help them be leaders and strong volunteers. Help them feel comfortable with the setting, and, in turn, they'll feel a greater sense of fulfillment and accomplishment as they serve.

Motivation
Your church has a mission, just like your volunteer opportunities. Tie these together by helping your members see the way they can help others. Tell them the story of why volunteering matters. Let them speak to (or at least hear from) the people whose lives your congregation is changing.
Help your congregation understand just how much difference their work can make. Using videos, testimonials, and reviews of past volunteers will give the inside scoop on what it's like to be involved in that particular mission. Inspire them to act, join, and participate.
Encourage
Do you acknowledge and motivate volunteers during the event? Do you engage them long-term by asking them to come back to a volunteer project they are emotionally invested in? There are small things that church leaders can do to help volunteers see service as a lifelong journey.
Encourage people to volunteer together to overcome obstacles and become like family, similar to the way small groups do.

Stress to them how the opportunity furthers your ministry's mission. From the sign-up process to the thank-you, be excited and welcoming about their participation.

Make sure you remember to thank them.

Ensure your registration is simple, efficient, and easy to do. If it's not, you'll only be causing frustration––and these potential volunteers will be less likely to come on board and get excited about the next opportunity.
The people who volunteer want to feel connected to the broader vision of the project. There's some particular element they related to, and that's why they show up. Your job is to help them remember why they wanted to help and to make it as easy as possible to sign up again.