Your website is a critical piece of your church communication strategy. It keeps your congregation engaged and connected. It operates as a central location for key events and information. Introduce people outside of your church to your ministries and staff. Provide a secure way to receive donations outside of the service. It is a library for the spiritual content your church creates. That's why it's important to consider a custom church website to meet all your ministry goals.
There are many theme and template-based options available for your website, but a custom website has distinct advantages. Instead of using plugins to retrofit your generalized template to meet your specific needs, you can sit down with a developer and build a platform that makes the most sense for your church's mission.
As we move into a new year, you may be in the market for a website redesign. If you're thinking about going custom, below are some features to think about as you begin the process.
1. Design
When creating or updating your church website, you need a design that fully embodies your church and fits the style and tone of your community. Some people might argue that design isn't a big game-changer. However, with everybody consuming online content daily, you want something that will stand out. And not only that, a custom church website will give you the flexibility to make it look the way you want it to.
Check out our top 8 custom designs from 2020!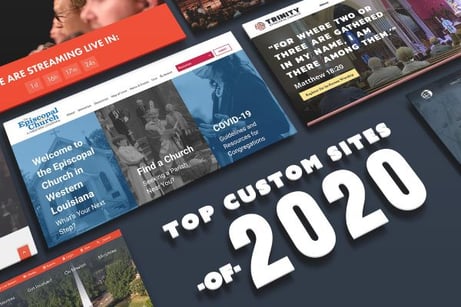 2. Multi-Campus Navigation
If your church has more than one campus, you'll want people to be able to easily find information for their location. For example, the custom website for Experience CC has buttons directly on the homepage. Once visitors select a home campus, they can easily discover info about the church, what to expect, their campus pastor, and how to connect. Even if you don't have multiple campuses, many churches now have online communities. You may want to include specific navigation to help them find what they're looking for.
3. Sermon Library
Your leaders spend much time delivering quality messages to bring people closer to God. You'll want a place on your church website where people will be able to access that content in the future. Or if they missed last week's message. Or if they want to share it with their friends. Ultimately, you don't want a website that sees your sermon content as just another video or audio track. You want a solution that makes sense of the uniqueness of your sermon library and makes it easy to manage. Unlike generic or templated options, custom church websites will take into account the specific ways your church wants to organize and distribute sermons online and help facilitate that.

4. Online Giving



Churches have so many options for online giving, but they're not all created equal. When someone accesses your online giving form on their phone, you don't want them to have to constantly zoom in and out to complete the fields. Your giving solution should be as simple and elegant as the website itself and should make it easy to give no matter how people come into contact with it: website, mobile device, giving kiosk, or shared link.

5. Easy-to-Use Navigation
The last thing you want when people come to your site is for them to get lost and leave. This can happen when your navigation is confusing or difficult to use. Have a logical navigation layout, with the most important things you want your visitors to see. This navigation can be a sidebar or tabs at the top. Your site navigation should make it clear to visitors what next steps you want them to take. It should elevate the most important facets of your website and make finding key information intuitive.

6. Custom Search Bar
Along with simple navigation, a custom search bar can be very helpful for website visitors. If they don't see what they're looking for right away, they can plug it into the search. It could be a ministry they want to serve with, a blog post they want to read, or the date and time of the next women's Bible study. A custom church website will be able to make searching simple.

7. Mobile Responsive
Many themed website builders will allow for mobile responsiveness, but that isn't always the case. Plus, sometimes things like load times or layout will be different depending on what program you're using. No matter how you go about updating your website, you want to ensure that it will be responsive regardless of the screen the user is on.
8. Small Group Finder
People want to get connected. One great way to do this is through small groups (or home groups, house groups, connect groups—whatever your church calls them). So, you'll want people to be able to easily find the group that is right for them. Having a small group finder with a filter will help. People can search based on location, day of the week, marital status, etc.
9. Integrations
At Ekklesia360, we understand the importance of full-service church tech solutions. It's important that your website be able to operate and integrate with other technology, like your church management system (ChMS), online giving, live streaming, and more. Christ Church Plano integrated their ChMS with their progressive web app. Users are able to receive notifications, watch church media, register for events, and volunteer. And it all syncs with their other software.
Ready for a Redesign?
If you're looking to create or redesign your church website, Ekklesia360 is here to help! Our design and dev teams will partner with you to create a custom church website that will stand out. And because we specifically serve churches, we understand your needs and what will help connect people and spread the gospel.
Check out our portfolio of custom church websites to see some of the work we've done. Or reach out and let us know how we can equip you to reach your online ministry goals.