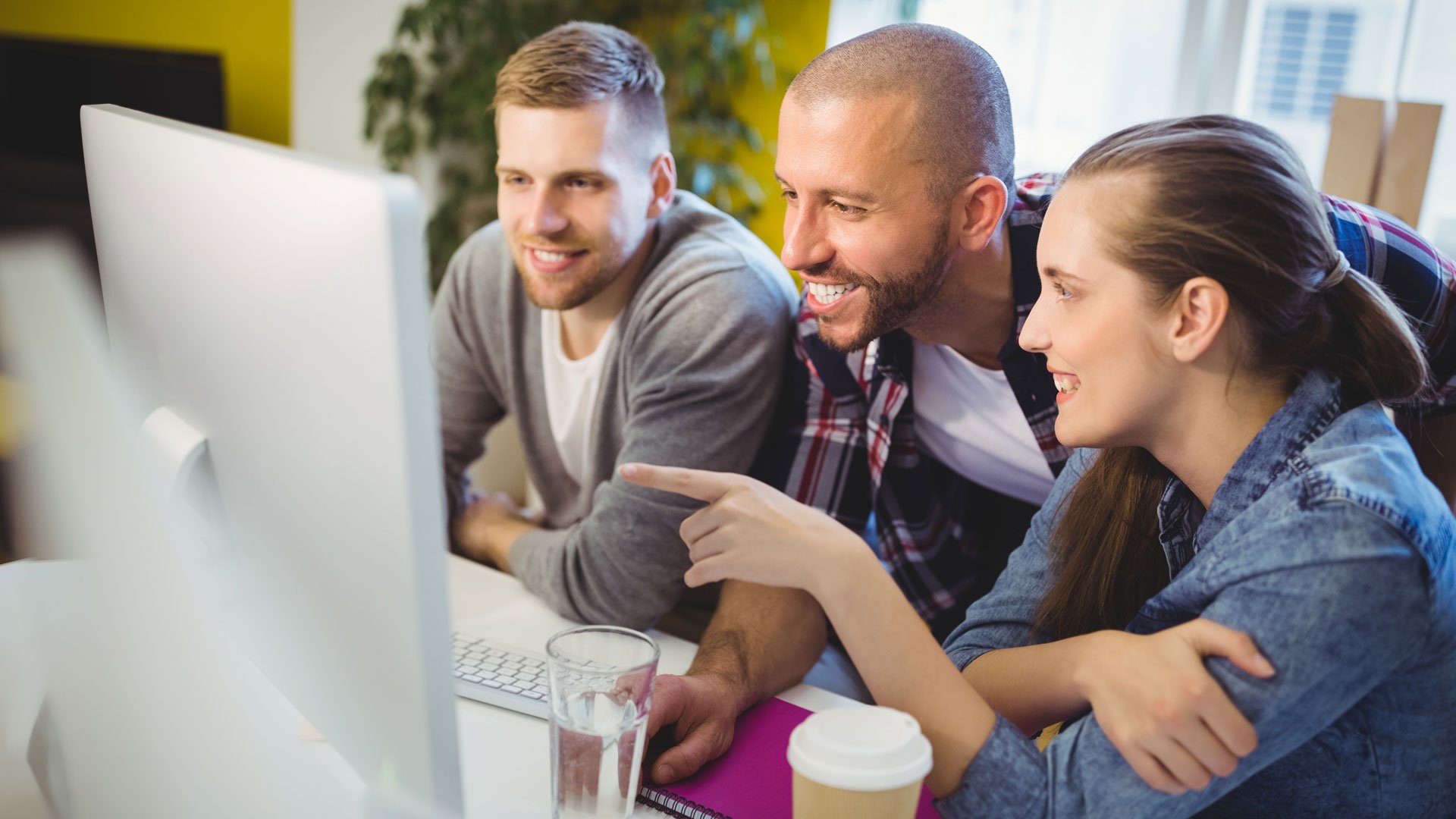 Most people don't get into ministry to research and troubleshoot technology. When it comes to websites, pastors and church leaders need something that works and doesn't take a programming degree to operate.
So what do you do when you need a custom church website created? There are a lot of options out there, but you don't want to end up with something that doesn't work the way you need it to. Some content management systems promise to be easy to use, but they're not created with the church in mind.
You might end up with something uncomplicated but also unhelpful. Is it going to organize and present your sermon library in an effective way? Will people be able to sign up and pay for the women's retreat from their mobile phone? Will visitors have a hard time figuring out how to make a donation? These are the kinds of things you need your website to do, and you need it to be done right.
If it's time for a custom church website, here are 10 features you want to look for.
1. Simple, elegant design
People visit your church's website to know more about you. A simple and smart website design removes the obstacles and draws them into the site. The best websites say a lot with as few elements as possible, and the right design makes everything work. Clutter is the fastest way to make your website look dated.
In psychologist Barry Schwartz's The Paradox of Choice, he talks about how too many choices or opportunities often prohibit people from making any choice at all. That's the last thing you want when people land on your site. Your site navigation should make it clear to visitors what next steps you want them to take. It should elevate the most important facets of your website and make finding key information intuitive.
A simple, elegant design means more than effective visuals and clear navigation. Did you know that bounce rates (people who enter the site and leave) increase 100 percent when a page takes four seconds to load? Crazy, right? Pages slow down when you have a lot of complex images and options. A quality design will load fast and keep people on your site longer.
2. Sermon management that makes sense
According to Thom Rainer, 70 percent of pastors spend between 10–18 hours on a single sermon. That's a lot of time, blood, sweat, and tears poured into this specific area of ministry. The fruit of that effort shouldn't just languish on your website (or worse, never even make it there).
Most website models will allow you to upload your sermon video, but then what? You don't want to simply end up with tons of videos for people to scroll through. You want people to be able to benefit from these messages for years to come.
Website visitors should be able to easily identify which sermons are part of a series, and they should be able to consume that content in the manner that makes the most sense—whether that's watching the video or listening on a custom audio player. And it should be easy to share and discuss your message on social media.
Ultimately, you don't want a website that sees your sermon content as just another video or audio track. You want a solution that makes sense of the uniqueness of your sermon library and makes it easy to manage. This includes things like effortless bulk uploading, sermon URLs for promotion, and integration with YouTube, Vimeo, and SermonCloud. Unlike generic or templated options, custom church websites will take into account the specific ways your church wants to organize and distribute sermons online and help facilitate that.
3. Easy facilitation of multiple administrators
Website management is challenging in a lot of church environments. One person often ends up saddled with the responsibility of managing the site because of the potential chaos associated with having multiple administrators. One wrong move can end up wreaking site-wide havoc. So that single administrator is constantly juggling multiple requests to update sections of the site, which just creates a ministry bottleneck.
Your church website should allow multiple administrators while giving you the ability to fine-tune each person's permissions. This allows multiple people the ability to work on the site without worrying about unapproved changes being made or people finding themselves in areas where mistakes can be time consuming.
The content management system should make administration crystal clear. Content editors should be able to log in and make adjustments to their areas of responsibility without worrying about messing anything else up, and you should have the confidence in your CMS to let them.
4. Effortless maintenance of media
A church website is a media-rich environment. You're potentially handling all sorts of content, including:
Sermons
Pictures and videos of events
Podcasts
Curriculum
Graphics
Every bit of uploaded media shouldn't require specific rules. You shouldn't have to resize the same image to use in different contexts of your site. You should be able to upload one image and automatically scale to the size you need—and then it should cache locally so it can be delivered lightning fast to users.
When you upload videos or sermon audio, you want that content automatically encoded to stream over fast connections, slower connections, and mobile devices. Your custom church website should enable you to easily host and maintain whatever sort of media you wish to produce.
5. Intuitive event and registration management
Your website should be more than an information delivery system. It should enable you to facilitate the events your team works so hard to pull off. It should be more than a simple calendar dump of everything going on. Members should be able to log on and filter events by ministry, campus, or category.
When they find an event they're excited to attend, registering and paying right on the site should be quick and efficient. The system should also make it easy on event coordinators, sending them notifications for new registrations and easy export of a registrant list for their records.
You should also expect your website's events to integrate with iCal event feeds and Google Maps, so people have all the info they need to remember and attend. Maximum attendance limits also make it easy for coordinators to ensure events are never overcapacity.
6. A common-sense giving solution
Churches have so many options for online giving, but they're not all created equal. When someone accesses your online giving form on their phone, you don't want them to have to constantly zoom in and out to complete the fields. Your giving solution should be as simple and elegant as the website itself and should make it easy to give no matter how people come into contact with it: website, mobile device, giving kiosk, or shared link.
On top of fool-proof integration with your website, the branding on your giving solution should give people the confidence that their donation is going to your church and nowhere else. A digital church giving solution makes sense with the way people do a majority of their banking and bill paying, but when they see it on your website, they need to feel like it's simple, secure, and familiar.
7. Seamless blog integration
A blog is a smart addition to any church website. It provides an opportunity for staff to respond to current events or efficiently communicate timely information. It's a smart way to highlight the talents of the writers and thinkers on your team. And it creates a platform that fosters discussion and connection with your church community.
Make sure that your custom church website makes the blog pop. It needs to support more than text; it should be able to embed images and video, too. It should foster community in the comment section, but that process should be easy to administrate. You should be able to schedule posts and send them out with a custom RSS feed.
8. Effective social media management
Your website shouldn't sit at the end of a cul-de-sac just waiting for visitors to show up and see all the cool stuff you have. You need a solution that creates a network out of your social platforms, enabling you to draw people in and engage them with new content.
Imagine a website that sent your sermons out to your custom syndication lists. Or sent an update out on Facebook and Twitter every time you uploaded a new blog post. Or synced your podcast feed up with iTunes. Every church deserves a website that helps automate marketing efforts and distribute their content so they can reach more people.
9. Ministry-focused layouts that get results
Every ministry in your church is different. That's why you wouldn't take a cookie-cutter approach to running a small group and a children's ministry. You recognize that the needs of each are different. So why would you take that approach to their web presence?
Your website should feature pages that are tailored to specific ministries. They should draw attention to the right things and lead people to take the right next steps. Thankfully, there are years of research showing what kind of layouts work best for various ministries. There's simply no reason to recreate the wheel through trial and error.
Look for a custom church website that sets you up for success with ministry-focused layouts.
10. A thoughtful SEO strategy
Who's coming to your website? Just church members? The occasional person following a Facebook link? That's great, but with all the content you create, you should be able to attract traffic from search engines—especially if you are hosting a sermon library, producing blog posts, or publishing a podcast.
Search engines like Google crawl websites in order to understand each page's content. Then it indexes those pages and serves them up when people search for related content. Search engine optimization (SEO) is the process of improving your site so that Google shows it to more of the right people. So when someone looks for "contemporary churches near me," yours has a better chance of showing up.
When planning a custom website, make sure you go with an option that has an SEO-friendly strategy. You want a web-based solution that offers things like clear and readable URLs, page descriptions, optimized site maps, and stays on top of SEO trends.
A custom website can make all the difference
There are a lot of template-based options available for your website, but a custom website has distinct advantages. Instead of using plugins to retrofit your generalized template to meet your specific needs, you can sit down with a developer and build a platform that makes the most sense for you.
A custom website isn't packed with code for things you'll never use or need, so you won't have the slow load time of other options. And since your custom website isn't built on an open-source system, you're not in as much risk of new attacks or vulnerabilities.
Your website is a critical piece of your communication strategy. It keeps your congregation engaged, connected, and active. It operates as a central location for key events and information. It introduces people outside of your church to your ministries and staff. It provides a secure way to receive donations outside of the service. It operates as a library for the spiritual content your church creates.
So, of course, you want to get it right. These ten features represent key elements you want to consider with any church website. With them in place, your online presence is ready to support your mission.
Ekklesia360 has all this and more
The good news is that you don't have to go on a mad hunt for a content management system with these features. Ekklesia360 offers all these ingredients and more. That's why thousands of churches, seminaries, ministries, and non-profits count on Ekklesia 360 to power their online presence.
If you're in the market for a custom church website, look no further. Check out our portfolio of custom church websites to see some of the work we've done. Or reach out and let us know how we can equip you to reach your online ministry goals.