Most churches have embraced online giving, and for a very good reason. According to Nonprofits Source, churches that provided online giving as an option to give increased overall donations by 32 percent.
However, in order to fully embrace online giving, you need to make sure your online giving is set up correctly. Here are seven mistakes to avoid with your online giving tools to make sure you are making the most of your investment:
1. Leaving Your Giving Page Unbranded
If your giving page doesn't look anything like the rest of your website, it's going to come across looking lazy, and worse yet, untrustworthy. For these two reasons, you need to pay attention to branding on your giving page.
You can do this by ensuring that the giving page has the same color scheme as the rest of your website, and it should also contain either the name of your church or your logo. A branded giving page will assure donors that their money is going where they think it is going.
2. Not Utilizing Recurring Donations
If you like the thought of having a consistent amount of cash flowing into your church's virtual offering plate, perhaps the easiest way to do this is making use of recurring donations.
Besides benefiting the church, the ability to set up recurring donations will also be of benefit to members. With recurring donations, members won't have to think about how much they are going to give from week to week or month to month, plus they can be assured that the church will still receive their donation when they are out of town or not able to make it to church.
3. Taking the Easy Route
If you think the very first online giving platform you come across is going to be the right one for your church, think again. It's a huge mistake not to do your research when finding an online giving platform that fits the needs of your church. Don't just choose the first one, the cheapest one, or the one that's the easiest to set up.
When researching online giving platforms, talk to other churches to find out what they use, read testimonials, and compare the pros and cons of popular online giving platforms.
4. Setting It and Forgetting It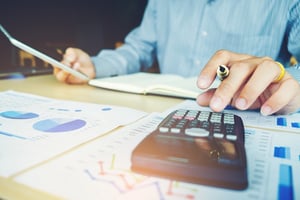 Just because your online giving is all set up, doesn't mean your job is done. You should constantly analyze the metrics of your online giving page, as well as knowing what features are working well on your platform and which ones aren't. When you find features that aren't working so well, you need to find out why. Is the recurring giving too hard to set up? Is the online giving process not user-friendly enough?
You can use A/B testing, pictures, and CTAs (Calls-to-Action) to help you determine what performs the best.
5. Going with Default Options
Every online giving platform comes with default options. While it's easier to go with the default options, it's not always a good idea to do so.
In order to make the best decision regarding your dropdown options, you'll need to analyze your church demographics. For instance, knowing how much money members generally give can provide feedback for suggested giving amounts that reflect this information.
6. No Mobile-Friendly Version
You need to make it as easy as possible to give! This means having consideration for how people give and knowing what kinds of devices are being used to give online. Since 80 percent of internet users own a smartphone, they more than likely use their phone for all kinds of online purposes, such as giving.
Because of this, the last thing you want is for your online giving platform be cumbersome on mobile.
7. Failing to Say Thank You
Gift giving isn't an obligation, but saying thank you is. Perhaps the biggest mistake you'll make is not saying thank you to your donors.
For those who give on a regular basis, you might even want to go the extra mile with a personalized thank you email or handwritten note. Just because you don't see them place the money in the basket, doesn't mean they shouldn't be thanked.