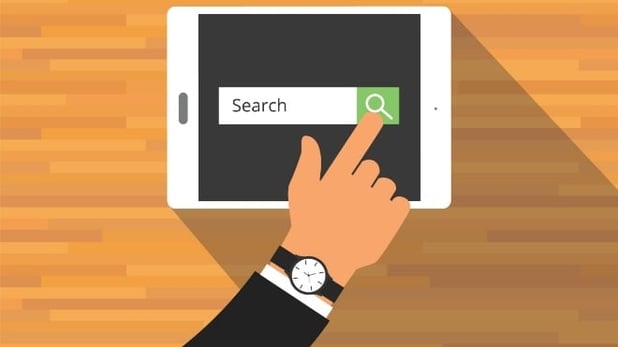 Search engine optimization, or SEO, is the "secret sauce" for getting church websites found online. It's the same as SEO for businesses, you're trying to get your website on the first page of search results for people that would benefit from meeting you. High placement gets good traffic for your website, so you can get free, natural, "organic," traffic to your site.
You might be wondering why you would even need to be found online when you have an awesome sign outside. But when you think about all the people who don't drive by your church or people who are new to the area and looking for a new church home, you'll realize there are a lot of people you're not connecting with if you're relying on your signage!
It's important to think about optimizing your church website with SEO best practices, but it might seem a bit overwhelming if you don't know where to start.
We're here to help! We've put together an explanation of SEO––specifically for churches:
SEO Tips for Church Websites
SEO is Always Changing
Before we talk about how to optimize your website, we want to emphasize that SEO is a constantly changing thing in the realm of Google. Google is always adjusting its algorithms to find more effective ways to help the person searching find what they are actually looking for.
Like your church, Google wants to improve its website to better serve the people who are using it. Don't be discouraged if it seems mysterious or confusing. Given the nature of SEO, it's natural -- and a good thing, really -- to have new and changing methodolgies. The following is what we recommend now to be the most up-to-date SEO patterns.
Google used to base your page rank on "simple" things like how often particular keywords appeared on your page, then they began using things like incoming links -- counting how many other people thought your content was worth seeing. They haven't stopped using those methods, but they've begun to serve up even better and more refined results as users search for more and more specific things.
Google now takes mobile friendliness, load times, and "usage data" into account; if most people stay on a page, it's probably what they wanted. Or, if they go straight back to try another search phrase, they've probably not found what they are looking for.
You can't control user behavior, and you can only ask for so many link swaps… but you can still help people find your website.
When developing content for your church website, ask yourself "If someone is looking for a church in my area, what would they type into Google?" Searches may look like:
Casual churches in my area.
Traditional churches in my area.
[Your denomination] churches near me.
Churches near me.
Where can I find a women's ministry near me?
The bottom line for churches is this: if someone in your area is looking for a church home, they should be able to find you with a simple search online. If they're looking for a ministry like yours, your church should "pop up" when they start searching.
Page Optimization 101
When optimizing a page on your website, the first step is identifying a specific keyword that your homepage (or any page in particular) will revolve around. Your keyword could be something like "church in St. Louis, Missouri," or "Catholic church in Orlando." Strategic selecttion of that keyword can make a world of difference. Use your keywords (as naturally as you can!) in these areas on your site page:
In your page titles
A few times in the body content (no more than five times)
In the page header
On the meta description or page description
In image alt-tags and descriptions
You can also optimize your page by making your website mobile-friendly and by adding links to other websites that are relevant for the reader and your content. To test out how optimized your page is, you can request that Google does what they call a "crawl."
Optimization ensures that you start "ranking" (showing up in search engine results pages) for the keywords and phrases that matter most to your audience and the people looking to connect with your ministry.
Localization
You're probably trying to attract more website visitors from people specifically in your area. Good news, Google has already helped you on that front! They specifically implement a lot of localization into their searches.
That means if someone types "Friday fish fry" into their phone or computer, the searcher's location will be taken into account and used to show them the most relevant results in their area. They might find a church right in their neighborhood and join them for dinner this very week!
This is important for you to know because you'll need to combine localization with optimization to make the perfect SEO combo to connect with potential area members.
How Your Church Should Localize
To help Google best determine your location, make sure your church hours (service times), address, and phone number are on every page of your website––in the header or at the bottom in the footer. This will help Google to pull your church website up when someone local makes a search. This information also allows Google to present a useful "summary" of your church and more easily offers a way for visitors to make a review.
It may feel a little cheesy, but we encourage you to encourage your church members to offer a Google review.
This will help the search engine -- and your readers -- know that you're a reputable online location. If you were searching "St. Louis churches," and you saw one with 15 great reviews, and another with only 1, which one are you going to click first?
Optimize the most important pages on your website, the pages you want more people to see. This might be the page of your church service hours, your events page, or your New Here page; it's up to you to determine those. If they're optimized, the hope is that these most important pages will be found most easily by search engines.
You should also verify your church in Google My Business so that anyone who searches for you will find a legitimate, eye-catching pop-up, like this one here. This slideshare is really helpful, if you need a tutorial walk-through!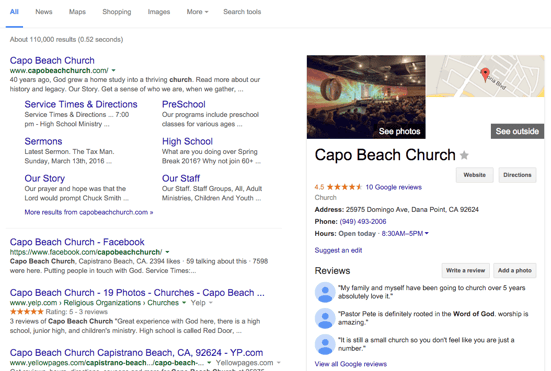 To Sum It All Up
Here's a handy list of the things to keep in mind as you optimize your church website:
Localized optimization
Do some keyword research so you can use long-tail, "easy fruit" as you optimize your web pages
Generate content (words and media) that follows the SEO rules AND is meaningful to the reader
Track results and tweak as necessary
Repeat
For some additional resources from Ekklesia 360, click here