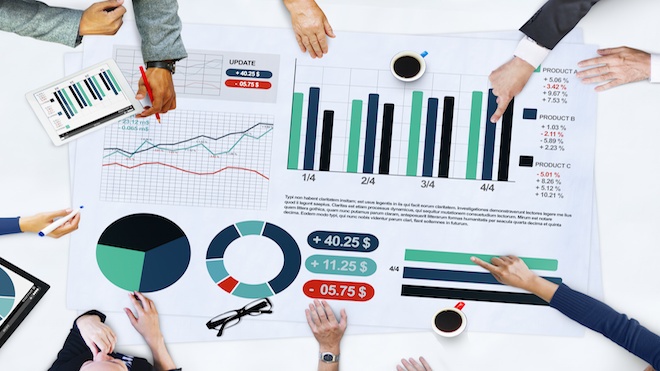 If you regularly follow the news, you know what it's like when you miss a few morning broadcasts. You've missed a part of your AM routine––and it's obvious. After just a few days, you can't name the frontrunners in the current political campaign, and you're not sure which country is facing an economic downturn. You may have even missed the passing of a notable musician or international leader. You've lost your groove.
But all it takes is the flip of a switch to catch up with what's going on in your world! You read up on what's new, learn about trends, and get back on track.
As a church communicator, you have a lot of information at your fingertips. You keep up with the religious news of the world, best practices on church communications and media, and you've got to be in-tune with the pulse of your own church.
To keep you from getting behind, we're bringing the news to you. Read up on these 7 statistics making waves in our industry, and see how you can use them to be a more effective, engaging church leader:
7 Statistics Every Church Communications Leader Needs to Know
1. 17 million people who

aren't regular church-goers

visit church websites each year. (Source,

Grey Matter

)
What this means for you: Many of your website visitors could be doing more lurking than engaging––so you have a huge opportunity to reach these potential members. These are people who are interested in joining your community. They want to feel the love and support of your church, but they may just need more motivation or encouragement to join in.
Examine the "path" you set up for new website visitors. Do you have a "New Here" button on your homepage? Does it lead to a page with detailed information on what to expect in a first-time visit to your campus, the beliefs of your church, and the ministry work you do? Do you feature the people and stories of your members to show first-hand how your faith can change lives? Answering these questions will help you engage with some of those visitors who stop by, but don't stay for dinner.
2. The average visit to a church website is comprised of 2.6 pages per visit.
(This is a real aggregate statistic from inside our Ekklesia 360 client portals.)
What this means for you: Imagine you're a chef. You have a potential client coming over to taste-test a few of your dishes before they choose a caterer for a large, expensive party. It's time to whip up your best dishes, but you only get to present three for the person to taste! Which ones do you choose? Only the best of the best, of course. You'll choose the three dishes that you know will knock their socks off, give them all of the information they need, and make them come back for more.
From the kitchen to your church website, this tactic still holds true. When a potential visitor comes to your site, you want to show them the top three pages you can. You want them to be able to clearly see where they should click (your "New Here" button on the homepage), and any new visitor information should be just on that next page. If your "new visitor" content is spread over 12 pages, they won't make it past the first few. Think simple, solidified, and welcoming when deciding how you want your website to guide your visitors. This layout is one that can do this.
3. 59% of church donors over 66 gave

online

. (Source,

ChurchMag

)
What this means for you: While young people are usually the first adopters of most kinds of technology, your older church members are ready to engage with your online presence more than ever before. While you might typically think that your website traffic is from your younger members, you should now start to examine your online communications through the lens of your more mature members. Your church has unique needs, but overall––most churches are beginning to focus more on online tithing and recurring donations than collecting checks.
The stereotype of "older people don't know how to use computers" is waning. Is your language and church website reflecting this new trend?
4. 52% of your Sunday morning website viewers are first-time visitors to your site. (Source,

Bridge Element

)
What this means for you: Sunday just got a little busier! While this day of rest is (ironically) one of the peaks of your week as a church communicator, it's the day your church website is performing at its best, too. This is the day when your local community members, not just the people already attending your services, are considering how to be more active with their faith. They're considering your church and mission in this journey. And this means it's the perfect time to show how blessed and awesome your church is on Sunday.
Consider how you promote your services right up until worship time. Do you have service times listed on your main website pages? Do you schedule social media posts to reach potential visitors just in time? Is it possible for you to live-stream your services so that this surge of Sunday morning traffic can receive your message from home––and feel encouraged to come in-person next week? These actions will help you harness these interested visitors on your church's most exciting day of the week.
5.

Social media outlets change their photo and media sizes frequently. (Source,

Sprout Social

)
What this means for you: Because there are so many social media platforms, we can't give you a definitive number statistic for how frequently you'll need to update your profile photos or other image sizes. But staying up-to-date is an essential practice of a modern church. Your communications need to be engaging, relevant, and modern––including the graphic and visual content you produce.
Bookmark this "always up-to-date" Google doc, produced by Sprout Social, to use in your church's social media. Pay close attention to the sizes you need so that your members see you as a part of their tech-driven world.
6. 95% of your traffic source is NOT social media.
(This is a real aggregate statistic from inside our Ekklesia 360 client portals.)
What this means for you: This is a surprise to most of the church communicators who we work with. Social media seems like the most personal, viral way to reach your church members with daily messages, right? Perhaps not! While you might spend a lot of your time posting to Facebook, Instagram, or Twitter, your time may be better spent somewhere else. Don't be afraid to take a step back from social media and focus your effort on another way to engage your community. Think about what they really need daily. Is it a morning Bible verse that you can distribute in connection with your current sermon series? Or does your next giving campaign need some extra love and attention to raise awareness and understanding? You might also dig into your church website's analytics to discover where your site visitors really are coming from so that you can build that area up. These are just a few examples of ways you can grow your church online without pouring lots of time into social media––because it may not be driving the amount of traffic you think.
7. Shared content is distributed twice as often in email than on other platforms.
(This is a real aggregate statistic from inside our Ekklesia 360 client portals.)
What this means for you: "Sharing" isn't limited to social media. While some of your members might love to promote their relationship with your church on their Facebook walls or to all of their Twitter followers, most of them prefer to share things privately. When they see an inspiring message that they want to send to another person, they want to share it with just that one specific person. Your audience is sharing with their friends and family via private email messages twice as often as they are hitting the "share" button on your Facebook posts.
Now that you know this, think about how email-friendly your church's communications are. If I were a member at your church, can I easily send a blog post via email or tell a friend to subscribe to your new podcast episodes? Tailor your messages to email distribution, not just social sharing.
Bonus: This means many of your church members may be more interested in email communications than you thought! Consider the benefits of adding a weekly or monthly email newsletter, including an email subscription on your church website, and distributing more registration or volunteer opportunities via email rather than just using your standard church bulletin or posters.