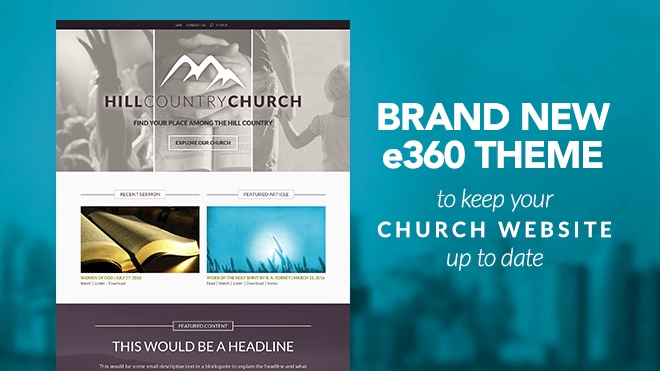 The Ekklesia 360 designers and devleopers have done it again!
We're so excited to announce a new e360 Theme, Whitby. We named it after Hilda of Whitby, who was key in helping convert the British Isles to Christianity in the 7th Century. She founded the monastry at Whitby (the Synod of Whitby is where we get the dating system of Easter). She was recognized for her wisdom and the kings of the day frequently sought out her advice.
Help people seek out your church website with this new e360 Theme!
New Font Selector and Color Picker

You asked for it, and we're happy to release it. Starting with Whitby, we've updated our Color Picker feature to include a FONT picker, too! If you're logged in to your site as an admin, you can activate Easy Edit mode and use all the features of the updated Font and Color Picker menu. Click the tab on the left side and the menu slides out.
Our designers have set up combinations of headers and text settings that will keep your website looking great. But also give you options! Start a Demo today and give it a try.

Event Rotator Section
Whitby also helps you clearly promote and organize your church events with an Events rotator section. Multiple calendars views available -- and they all look great. Take a look around and image how great your church events could look with a featured page and an image rotator. Built right in. No need for additional set up fees or delays. Pick Whitby, and your site Events will be ready, "right out of the box."

Logo Options - Centered or Left Aligned
It's a small difference, but we think you'll like the flexibility. Our examples put the logo in the middle of the menu bar, but if you're looking for something a bit more traditional, you can also move the logo to the left. It's as easy as checking the "logo left" box, learn how here.



Whitby Includes "Articles Layout #4"

As an additional bonus, we've included Articles layout #4 in the Whitby theme. Share and organize all the various types of content your church produces. Use articles to display your most important content without sacrificing flexibilty or design.
This is usually an upsell, but we crunched the numbers and we're so excited that we can include this great Layout on this new Theme. Normally, adding additional Layouts could cost you $350. This one's on us! Check out the Articles Layout on Whitby and take a look at some of the other Layouts and tailoring options we offer to see how else you can live out the mission of your church online.

Let Ekklesia 360 and this new e360 Theme help your church share your stories and take care of your community.