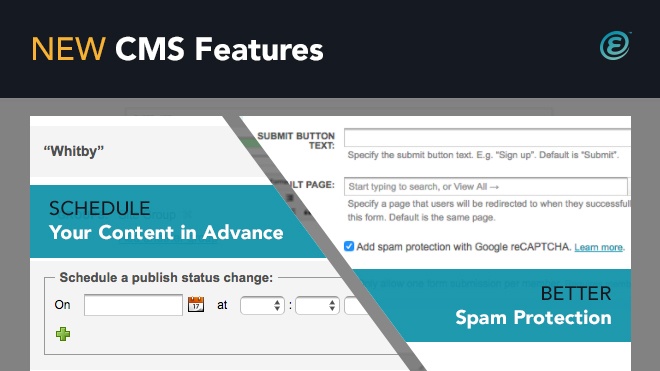 It's that time again!
We haven't written a feature update in a bit now. And we have a lot to celebrate! You may have noticed some of these features already -- or they may have snuck past you.
Learn how you can be saving time and building the best church website ever with these new features and CMS updates.
Grow Your Ministry Impact with New e360 Features:
We have a great team of developers and product owners. They work all day, every day to make your church website the best. We have regular meetings where the development team meets with the customer service team and the sales/marketing side, too. We get all of your feedback, prioritize it, and here's what we've done lately:
Better (and less annoying!) Spam protection on your Forms

You'll have to enable it for each Form, but it's a great, easy Captcha tool. It scans your system looking for mouse movements and other signs of a "real computer being used by a real person." Nothing will appear on the page unless Google thinks the user is a spam/bot, then it automatically asks your users to verify. Learn more on our Help site, here. Viola! Less spam in your inbox!

Referral program automated.

We'll be asking every new customer how they heard about us. If you're their source, you'll automatically get a one-month discount.

Font Picker options have been built right into the slider menu in Easy Edit mode (on selected new themes).
Password protection for individual pages.

It's now easier to share private content! To add password-protection, navigate to the "Publish" screen of a Page, and enter a password. Your visitors will be prompted for the password when they visit the page on your site.

For more info on customizing access to private content, see

our complete tutorial

.

Timed live/draft toggle of content in Events, Articles, Blogs, Feature Images, etc.

Save time and make your job easier by scheduling your content in advance. Use this tool to set when you want your content to come down or when you want it to go live. Make it easy to clean up your website when an event is over.

Those of you who are more technically inclined will be glad to know that we have also improved the following:


Added atom:link tag to all feeds.

Added image tag to Blog feeds.

Improved XML formatting and character encoding.

Small Group Leader API export improvements.

Improved text editor tool allows for an easier single line break.

Podcast "subcategory"

makes it easer for iTunes to find your feeds.
But it doesn't end there.
Stay in the Loop with the NEW #FirstFridayFeature
Don't just learn what the features are -- learn how to use them to best serve your church. The first Friday of every month, we'll send out a short eblast with an example of how to do something cool on your church website. Sometimes it'll be something simple, sometimes we'll dive into the trickier stuff.
Click here to sign up.