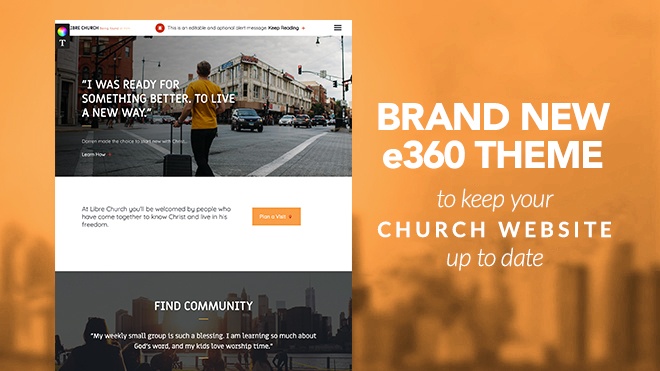 At Ekklesia 360, we are here to help your church websites succeed and thrive. We are always at work for you -- designing, brainstorming, iterating, developing, and now releasing to you all the newest features.
Our latest e360 Theme is named after Rosa Parks. We probably don't need to tell you the story of her famous human rights leadership. But you might not be aware that Rosa Parks was a impactful force for good becuase of her Christianity and the value she saw in every person.
Our prayer for your church is that you will work for the oppressed and broken in your communities and that your church website can help you do just that!
We can only imagine how effective a voice like Rosa Parks would have been when supported by a great website. Read about our highlighted features below to learn how this new e360 Theme can help your church community grow and thrive.
Weather Alert Banner (and Font/Color Picker)


This feature is a common "upsell" request and we've built it right into this Theme. The Alert Banner can be used to highlight your next big event -- but we recommend you save it for emergency alerts. Communication about weather, special service changes, etc. Keep your messaging relevant and clear while keeping the styling and functionality strong.
Starting with the theme Whitby (Truth and Parks, too), we've updated our Color Picker feature to include a FONT picker! If you're logged in to your site as an admin, you can activate Easy Edit mode and use all the features of the updated Font and Color Picker menu.
Our designers have set up combinations of header and text settings that will keep your website looking great. But also give you options! Start a Demo today and give it a try.
Configuration and Color Scheme Options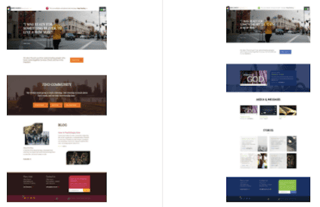 We know you love the ease and convenience of themes, but we also know you love variety and custimization.
We build options right into our themes and Parks is no exception. Arrange sections, modules, and "monklets" to display just the right balance of images, buttons, text, and information for your church and your community.
Use this new theme, Parks, to perfectly shape your messaging and communicate about your ministries and programs.
Enhanced Menu and Search Functionality
We know you want to put lots and lots of information, events, ministries, sermons, articles, and resources on your church website. How else will you fully serve your community?
Well, sometimes less is more. And sometimes you still need more. So we kept it simple, clean and compact. But we added even more functionality. This e360 Theme is available with triple-level navigation items in your menu. This allows you to keep your website even more organized. As your content grows, don't let it drown in a sea of links and and lists. Keep it organized with a great menu!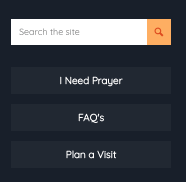 And use a great search feature!
In Parks, the search is built right into the menu -- and we've put some of the more urgent and popular search requests as buttons. This makes them available easily right below the search box. How will your congregation use yours? Do you know what they search for most often?
The GIVING Layout is Available for Free*
Of course there's a small asterisk. But in this case the small print is actually good news: "If you are an
e360 Giving
user, we will set you up with the
Giving Ministry Focused Layout
absolutely for FREE on your Ekklesia 360 website." We've made it easy and attractive to highlight your Giving pages and sections.
Giving and generosity are important aspects of your church. With this e360 Theme, we want to give you the ability to highlight online giving. The smoother we can make the technical process of your church's generosity, the more you can focus on the "why" and tell the stories of the ministries you support.

Interactive Hover Effect
This feature's just cool! More and more, websites are interactive in big and little ways. The call to action buttons in PARKS just pop off the page with color and shape change. This draws the viewers eye and helps them realize that they can "click here" and learn more.
A great website can help your visitors (and all of your congregation!) move into deeper levels of engagement with your church by showcasing how they can get involved. If you make it clear and easy, people are more likely to click and learn more. If they know what the opportunities are, they are more likely to join, sign up or otherwise support the work of your ministries.
Just imagine what your church can do with an e360 Theme like Parks. Or any of our 17 others. With themes like PARKS, we take care of the details so you can take care of your community.