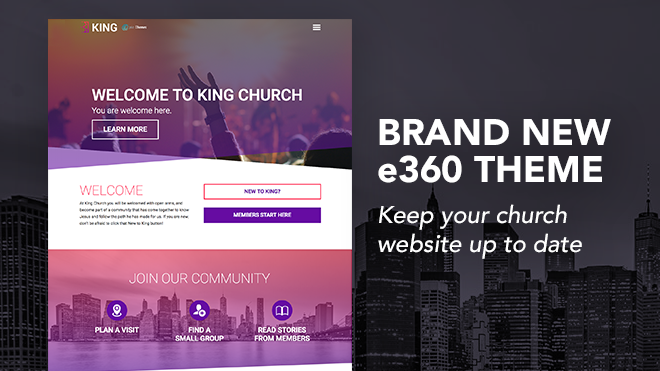 At Ekklesia 360, we are here to help your church succeed and thrive online. We are always at work for you. Today we are excited to release a new church website theme to help your church look great online!
Our latest e360 Theme is named after Martin Luther King, Jr. A famous and profound Christian thinker who needs no introduction. King reminds us that, "Darkness cannot drive out darkness; only light can do that. Hate cannot drive out hate; only love can do that."
This new theme is bright and bold and follows cutting edge trends of graphic design.
We are seeing intense gradients and bold colors. KING is vibrant and makes a big impact, but it works just as well with a more subtle palette.
Read about our highlighted features below to learn how this new e360 Theme can help your church spread justice just like King; "Injustice anywhere is a threat to justice everywhere."
If you're ready to take a look right away, check out the preview here. We think it looks great, and have some really cool features that you and your community will love! This theme has it all. Click thru and scroll down -- just watch all the great animation the team built into this theme!
Get Organized and Explore Your Options
This e360 Theme is your chance to get a bit more creative -- if you want to be a bit more of an artsy option for your church website. But KING also looks great in a variety of colors and palettes, from the vibrant to the more subdued. This theme is full of all the "normal" features like Sermons, Events, Latest News, and more!
And, as always sections can be turned on or off to make the page a little simpler or more complex.




"Welcome" Section Makes it Easy to Join Your Community



Welcome: This section is a welcome/introductory section to welcome visitors to the site. Included are two buttons - one for new visitors and one for people who are church members. The goal is to get tailored content to each group and use your website to drive engagement.
Join the Community: This is a sort of Next Steps section where visitors (or repeat visitors, or those looking for more) can take actions to join in the community of the church.
Help your visitors (and all of your congregation!) move into deeper levels of engagement with your church by showcasing how they can get involved. If you make it clear and easy, people are more likely to get involved and want to learn more. If they know what the opportunities are, they are more likely to join, sign up or otherwise support the work of your ministries. At Ekklesia 360, we make it easy for you to make it easy for your church.
But We're Not Through Yet!
This theme looks great on mobile devices, but it's really useful on mobile, too! Even down to the footer details. Tapping on the phone icon will launch the actual phone call and people can easily call your church offices. Similarly, tapping on the map pin icon will open your phone's map app and help navigate folks right to where you meet.
And look at that elegant and simple newsletter sign-up form.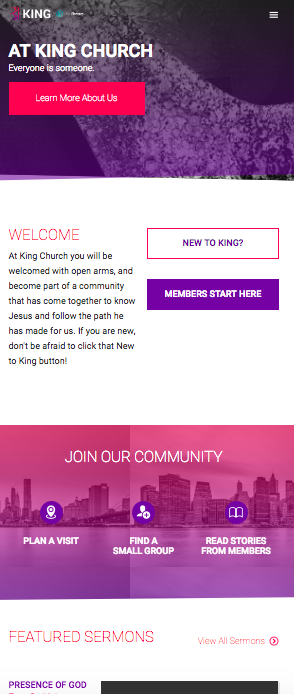 KING was designed to give you the ease-of-use you're used to, but also with TONS of flexibility built right in. Our standard layouts are available: Homepage, Subpage Default, and Subpage Fullwidth.
AND, If you know anything about Ekklesia 360, you probably know that we SPECIALIZE in churches -- and helping you build great websites. One of the ways we do that is with our Ministry Focused Layouts. Our newest theme, KING, has examples built right into the demo -- you can see what they look like and imagine how it might work in your church. Here's the full list. and some of our favorites set up in the KING demo:

All New e360 Themes Include Font and Color Picker

It's not really "new" anymore, but we're still really excited about the updated Font and Color Picker. If you're logged in to your site as an admin, you can activate Easy Edit mode and use all the features of the updated Font and Color Picker menu.
Our designers have set up combinations of header and text settings that will keep your website looking great. But also give you options! Start a Demo today and give it a try.
Just imagine what your church can do with an e360 Theme like KING. Or any of our others.
With e360 Themes like KING, we take care of the details so you can take care of your community.