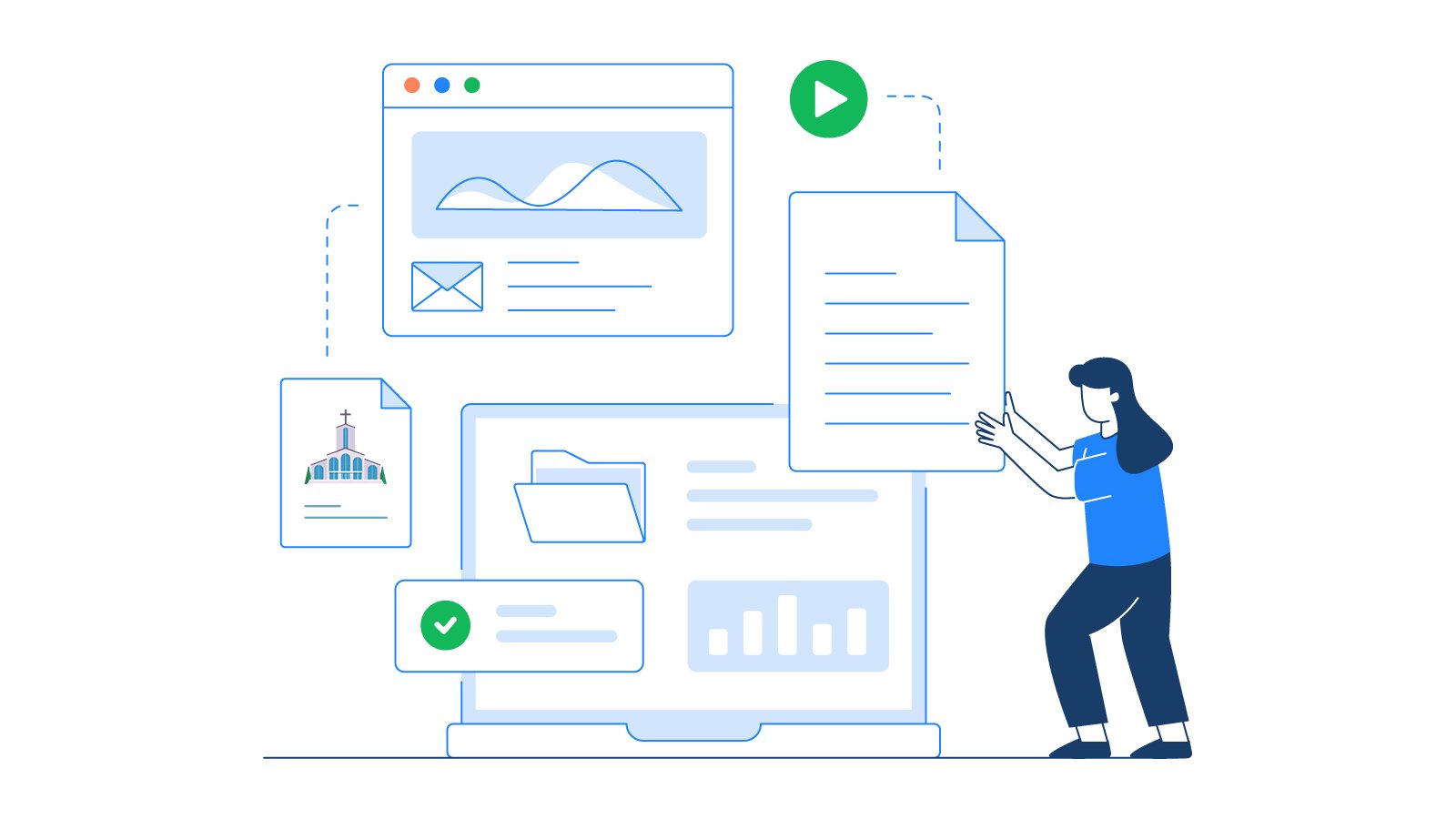 Technology was an important part of church management and communication in 2019. Even then, most churches had their own websites, posted on social media, communicated through text or email systems, and some even live streamed their services (or at least put the recordings on YouTube). Then in 2020, church buildings had to close their doors and shut down in-person operations through unprecedented times. Suddenly, technology like church websites and church management software went from being a major asset, to the ONLY means of engagement for many churches.
Looking ahead to 2021, we can take what we've learned from the past and use that knowledge to pave the way for the future. While many are looking forward to in-person gatherings, many others are finding new ways to engage and connect with churches online and after building so many bridges for online ministry, it's important to carry that momentum forward into the coming year.
Here are some ways your church management software will be crucial to the long term success of your ministry, going forward.
Use church management software to engage your community
Church management software opens the doors for a wide variety of communication methods for reaching and engaging with your people. This helps build a more solid community and ensures members aren't falling through the cracks. It allows you to track attendance, prayer needs, and information requests, and then readily respond in an efficient and timely manner. Church management systems offer a streamlined method for communicating with congregants based on their communication needs and preferences, too.
Use your software to keep up with attendance and authentically reach out to members on a consistent basis. When you use software to track behaviors, it will ensure you connect with members at the right time and in the way you prefer. If you have a church communicator who is feeling overwhelmed at the vastness of the role, especially if they're trying to work their way through learning new communication methods, church management software can be a game-changer. Track important information about members and their families with your software, and then strategize communication efforts to address needs. In turn, you can deepen relationships and build a stronger church community.
Use church management software to grow your volunteer ministry
Church management software equips your volunteers with the tools they need to effectively lead and serve within their respective ministry roles. You can use this software to track staffing needs, scheduling, and provide details on volunteer duties. Pairing your church management software with service planning software like WorshipPlanning makes it easy to communicate and handle roles and directions for your volunteers each week. Volunteering within the various ministries in church is a ministry in itself. By having an efficient and effective volunteer process in place, you are empowering your volunteers in their ministry. Maintaining an organized volunteer ministry with adequate resources will help volunteers will feel supported and valued in their roles.
Church management software and organizing in-person and online ministry events
Even with limited opportunities for in-person events, virtual events still offer the opportunity for your congregation to stay connected and engage with your ministry online. Setting up the church management software to handle the administrative side of event planning allows you to dedicate more resources to the event discipleship and ministry. Organized activities and events serve as a way to unite and grow your church.
Church management software and automated engagement
Another important element of church management software is the ability to create automated workflows based on certain actions. For instance, if someone attends a particular event, you could set up a workflow to send a follow up email. If someone visits for the first time and submits their information through a contact form or on a contact card, you could automate a workflow to have a staff member send a personal email response, phone call, or handwritten welcome note. Or, if someone gives to a new fund for the first time, you could add them to a list of people to receive updates on the project that fund supports.
Next Steps
Is your church management software supporting the ministry work you want to do in the ways provided above? If not, e360 ChMS might be the church management software solution you're looking for. We understand what it's like to need a software that is reliable, intuitive, and actually supports ministry work. When you're ready, we encourage you to start a free trial to discover how e360 ChMS can help streamline ministry management.