"How can I add users and set permissions in Ekklesia 360?"
This is one of our most frequently asked questions—and for good reason! We hear you, and our new blog segment here will answer your questions in a get-right-down-to-it sort of way.
Adding users and setting permissions are not things you want to be confused about, since these rules and regulations influence so much of the nuts and bolts behind your church website's function. From making groups to setting reasons or properties, having a fundamental understanding of simply how to do it is vital.
Ekklesia 360 is an easy-to-use CMS so it should be easy to have more members of your church help when and where appropriate. Getting your team involved in this integral part of your whole church ministry is beneficial for your church, and can lead to developing more church leaders.
So let's get right to it!
What are "Members?"
A member is someone you want to allow to work on your site or access an area that is password protected. This could mean someone who uploads the weekly sermon, or a full-time developer working on more complicated details of your site. "Member" is a blanket term for everyone in your system. These members can make changes in the backend to your site, or they can be someone who only has access to the frontend, specific private pages, or is a member directory member or newsletter subscriber. There are lots of different types of members, and you can change what their roles and permissions are.
Groups
You can sort your different types of members by groups in the Ekklesia 360 CMS. You can then see these different types of groups when you use the "Filters" tool to arrange your different types of members.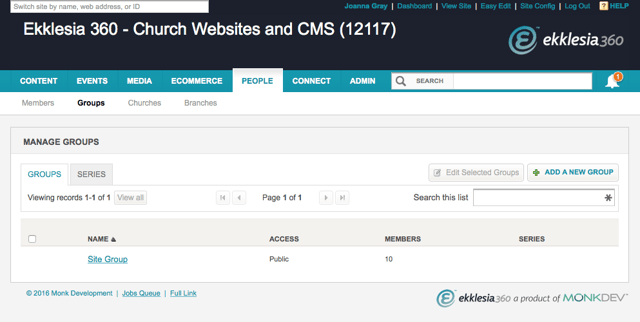 Setting up a New Member
Under the "People" tab, start by clicking on the "+ Add a New Member" button.
Here, you'll be able to fill out their first name, last name, email, and assign them to a group of your choosing. You'll then immediately be redirected to the Members Permissions page where you can set their login details, each category allowing different login permissions:
Allow login to yourchurchwebsite.com - If your site features a login feature on the website itself, this person will be able to log in and see the content.
Allow login to my.ekklesia360.com - This will provide the member access to the CMS so they can make changes to the content on your website.
This user is a site administrator - This member will have full access to everything with no need for particular permissions. They can change and delete members, as well as have access to the "Admin" tab to change any settings to your website.
Here, you can also adjust if this member can comment on your site, generally for blogs and articles. After you save these details, an option will appear for you to send an email to your new user and they can set up their registration and login information.
On this same page, you'll be able to set their rules.
Adding Rules and Additional Permissions
Unless your new member is a site administrator, they'll need to be given rules and specific access to different parts in your Ekklesia 360 system.
Here, you'll be able to easily choose the module you want this person to be able to modify and adjust their specific permissions. You can give them write access, read access, or no access. For example, if you want to give that member write access to website articles, you may also want to give them access to your media module in case they need to use images or videos.
And that's it! This person will need to check their email and follow the instructions from Ekklesia 360 to complete their registration and create their MonkID.