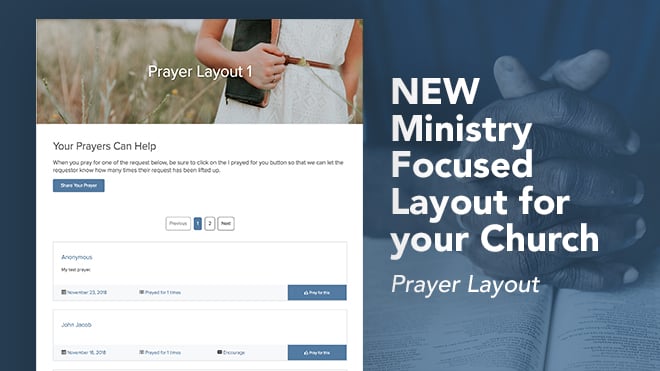 "Do You Have a Way to Share Prayers?"
Today we are introducing the very latest in exciting upgrades. This Prayer Layout from Ekklesia 360 is the latest Ministry Focused Layout. And this one is not an update or a re-fresh. The PRAYER Layout is brand new.
Our goal is to help you move beyond the simple prayer request form and create an elegant and easy-to-use landing page. This will allow a church to feature prayer as a ministry. You can also add additional sections to integrate your congregations' prayer around particular sermons, blog articles, special events, or prayer team opportunities.
We can all use more prayer and encouragement. The newest Prayer layout will help you interact more clearly with your members and give everyone an opportunity to prayerfully support the life of your church. Technical details below, but it's probably easier to just take a look at it. Click here to see the Prayer Layout.
Help your community stay connected and supportive!
Start 2019 with a goal to build stronger community within your church. Encourage the "simple" act of praying for one another and it'll be amazing to see how your church grows.
Make it easier for everyone to engage and grow into a deeper relationship with God and each other.
Check out the PRAYER Layout and keep reading to hear about the features of this new Ministry Focused Layout. We're not going to go into too much detail here, but if you're interested you can see the setup guide here. We built this Ministry Focused Layout with the potential to connect to Prayer Engine (if your church is already has a license for that).
1. First: How to set it up.
Add a nice big image at the top. We call that the Hero image and it's to help your site viewers feel connected to your church.
2. Second: How to use it.
The page viewer clicks "Share Your Prayer" button, enters a short request and then sets the privacy or anonymity or their request.
3. Third: View the Prayer wall.
Once prayer requests are approved by a site admin, viewers will see the Recent Prayer Requests in a list.
They will see the request and have an opportunity to send and encouraging note, or simply click an "I prayed for this" button.
4. Fourth: Ways to Take it to the Next Level by Customizing
Use a Blog section to pull in the most recent blog post. Provides resources for the members to engage in prayer during certain seasons, such as Lent, Easter, etc.
Parallax Image available with a text section and a button simply links to another page.
Set up an Events Monklet to pull in a recurring prayer night or other relevant event.
A Small Groups Monklet can pull in small groups to get involved in community.
You can set up a Staff Monklet to highlight a pastor or staff member.

If you're ready to help your website viewers pray together and support each other, consider the PRAYER Layout from Ekklesia 360.
Ekklesia 360 is, as always, your ministry partner. And we're here to help your church grow and thrive!