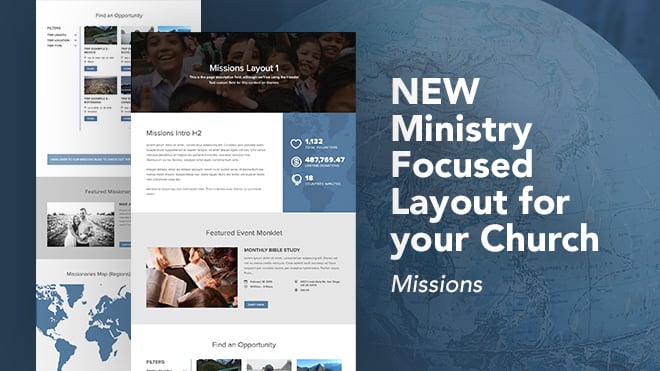 How Does Your Church Support Missions?
The newest Ministry Focused Layout from Ekklesia 360 was designed to help you spread the word, get more people involved, and raise money more effectively. This Layout was specifically designed to help you share your missions and outreach stories as well as provide clear next steps for your people to participate in various opportunities.
Organize a ton of information -- and TELL STORIES better about the amazing work happening in the Missions field. Engage more clearly with your members and give everyone an opportunity to support (and get involved with!) the Missions your church supports.
Of course, this blog post continues, but it's probably more exciting if you take a look at the actual Layout. Click here to see the MISSIONS Layout.
Help your community learn about all the Mission opportunities you have going on!
This Layout has features ranging from simple text and photo sections, all the way to an interactive map and counter. Provide next steps to financially support, go on a trip, join a team, or participate in one time events your church has created. This layout can also celebrate partner ministries through blogs or stories.
Hero Panel with Progress Tracker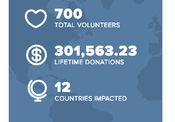 Add a nice big image at the top. We call that the Hero image and it's to help your site viewers feel connected to your church and your missions. Be sure to include a short missions philosophy statement to help tell the story of your church's work.
Track your impact in "real time" and drive even more engagement in your congregation. The progress ticker can be turned off if necessary
.
Featured Event & Trip Opportunities
Use the full-width section to feature a special event or one-off opportunity, such as for a missions fair or missions weekend. Link to your registrations, donations, or more information.
This is one of the "get organized" parts we were talking about. Give your community an easy-to-navigate list of opportunities for trips, partner organizations, etc. This list can be filtered based on who would be interested in knowing more about the opportunities: individuals, small groups, or families.
Make it easy for your congregation to find the next opportunity to get excited about!
Map with Customizable Content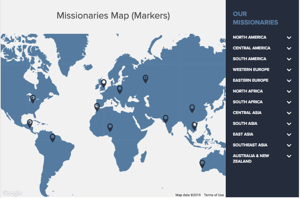 One of the easiest -- and the most difficult -- things to visualize for your community is where the missionaries you support actually are and how they are serving. Bring missionaries and their work to life for your community in new ways. The map in this new Layout highlights countries or regions, or can display with marker pins.

Click into the map and you will open a detail page for the missionary. This has a text description, another chance for a Hero image, link to their website you can use a form if you want to. Your site views can then send that missionary some encouragement or let me know they're being prayed for.
Final Section for Any Final Words
This bottom section is your chance to wrap up the Missions experience at your church. You can use this space to talk about donating to missions with a Call to Action to "Donate Now" or "Learn More" if you have more information on another page.
Make it easier than ever to build momentum and share excitement for the Missions efforts at your church. With an organized and polished Layout, everyone can engage and grow together.
If you're ready to jump in and organize (and SHARE!!) your church's Missions information, consider the MISSIONS Layout from Ekklesia 360.
Ekklesia 360 is, as always, your ministry partner. And we're here to help your church grow and thrive!