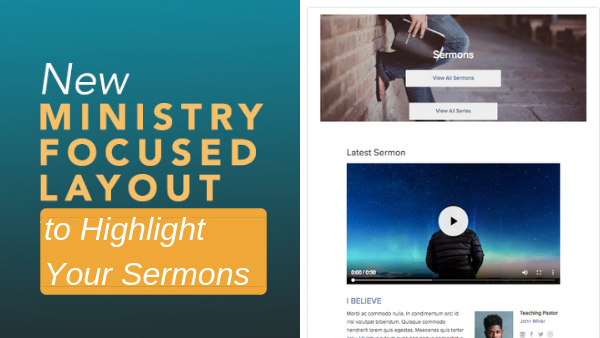 We're happy to announce a new Ministry Focused Layout to serve your church! We know you (or your pastoral team) put so much work into your sermons each and every week. It's a major part of your church's ministry -- and you know your congregation values the teaching.
With this new layout, it can be easier (and better looking) than ever to display, sort, and SHARE your sermons with an even broader audience.
This new layout allows your church to provide a central location for visitors to replay your church's sermons -- and find new content they may have missed.
The design itself features a variety of image and content sections, as well as sortable lists based on speaker, series, etc.
Go take a look for yourself: click here.
What's in the Design
You put so much work into your content - make it easy to spread the word and look great on your website!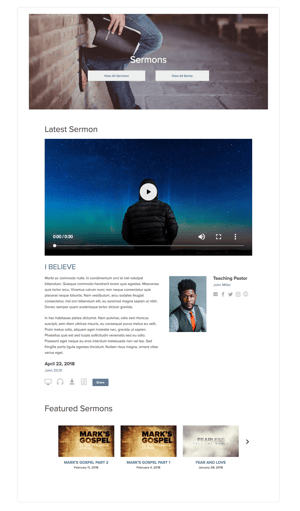 The main landing page highlights the latest sermon and as well as a featured sermons rotator. The buttons on the header image can be used to view sermons by list or by series. We know not all churches use sermon series, so we built this layout with an option for both.
Clicking either button opens a new window or tab to show the different ways of categorizing a sermon. In these list views, we offer a "see more" option so your viewers always have a way to go deeper and find more sermons on the topic or speaker they are interested in.
The sermon details page also has some cool features: If a video is loaded, it will pop out and become sticky to the bottom right of the layout as you scroll down the page. Many of your users are probably becoming used to seeing this on other media platforms. Click here and scroll down to see it in action.
And, as you scroll down, you'll notice the Notes section. This allows people to take notes while listening and then download or email the notes to themselves.
When you're looking at the page for the Latest Sermon you have playable video of the most recent sermon and we've built it so you can display a LOT of other information, too. This will make your sermons easier to find. And easier for your audience to engage with your content. You can display: the sermon title, description preview, speaker and speaker image, date, Bible passage, view, listen, download, and notes icon.
We've made it so easy for your audience to share. This layout employs a "Share" button that drops down into a whole social sharing bar. Click "Share" to see the list of Facebook, Twitter, email, Pinterest and about 193 more options. We've got you covered. Click thru to check it out.