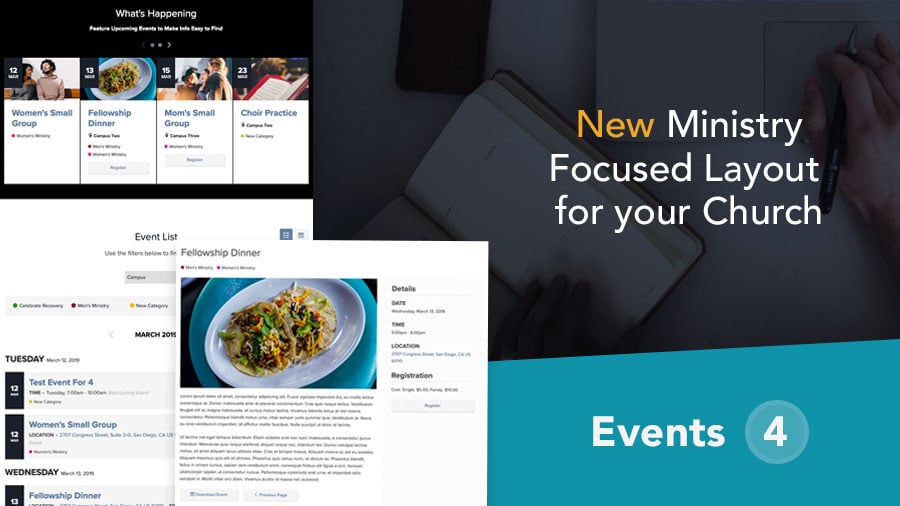 Do You Wish it was Easier to Keep Track of Your Church's Event Calendar?
The newest Ministry Focused Layout from Ekklesia 360 does just that! It's been designed to help you keep track of events, increase engagement and organize a ton of information. Use this Layout to encourage your community to take action and actually get excited and involved with your church's events.
Of course, this blog post continues, but it's probably more exciting if you take a look at the actual Layout. Click here to see the EVENTS Layout. We built this Ministry Focused Layout with some of you larger churches in mind (or those of you at any size with many events to keep track of). It's got a lot of ways to display information and keep things sorted and organized -- and easy to find!




It Works Like a Landing Page:
The new Events Layout starts with your featured events arranged in a tile view. In the second section, your users can toggle back and forth between a calendar and list view. Clicking on any event will bring up the Detail view and on into the Registration page.
Your site visitors are able to see all upcoming events while having easy access to the most important ones -- all without
ever leaving the events page.
Calendar & List View:

We've visually simplified the calendar quite a bit. Each day will display your event title and colored bubbles for the category you assign to each event. This will help your community find events that will best serve them through every stage of life.


Color Coded and Location Filtered:
With this new Layout, your Events are easy to find and easy to sort. The color coding of events is ideal for churches with lots of categories (or various ministries?) for your events. It seems subtle and simple, but it's the little things that really make this design "pop" and add to many layers of meaning to your Events page. Set up as many categories as you need to serve your congregation.


One of the features we expect y'all will get the most use out of is that Events Layout #4 comes pre-built with a campus or location filter. This is perfect for multi-site churches who need even more ways to sort the many events on your church's calendar.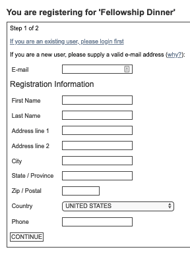 Registration:
Click here to see it in action. Not only can folks view and learn about the events at your church, you can set up forms and collect registrations -- right from the Events page. You can set an event with or without cost a cost attached to it. This works with the Event Registration tool, built right into the CMS. Click here to take a look at the Help and Setup documentation.
Sharing Events Can be Easier than Ever
This is one of the "get organized" Layouts we make for church websites and we created it with your church growth in mind.
Give your site viewers an easy-to-navigate page full of ways to join the community of your church.
Make it easy for your congregation to find and register for events at your church!
If you're ready to jump in and organize your church's Events (and make it easy to for people to register), consider the EVENTS Layout from Ekklesia 360.