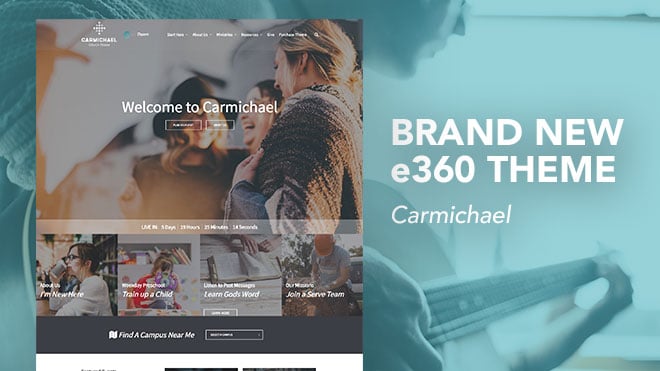 At Ekklesia 360, we are here to help your church succeed and thrive online -- and our portfolio of church website themes is a big part of that. We're always trying to have new things to offer you. Today, we're so pleased to roll out a BRAND NEW church website theme.
Our latest e360 Theme is named after Amy Carmichael. If you're up on your "missionary flash cards," you'll remember that she worked in southern India just over 100 years ago. She founded a mission and orphanage to provide safe haven for those who had escaped from slavery in local temple worship practices. Read more on Wikipedia here.
If you're ready to take a look right away, check out the preview here. We think it looks great, and have some really cool features that you and your community will love! This theme has it all. Click thru and scroll around and click on the pages -- it's all live in this demo!

This latest theme is designed to keep the color palette fairly neutral so the sections can fall to the background and your church's images and videos video take center stage. Carmichael is a theme that is straightforward and flexible, toeing the line between cutting edge and classic.

Let's just walk down the page together. Some of the primary features we think you'll like:
There's a ton of functionality packed into the header section.
It's got what we call a "sticky header menu" to stay at the top while users scroll.
This one has adjustable logo sizes.
You can set up an optional alert bar to keep your congregation easily up to date.
Two navigation options: the default is a full-width menu, and the second option is the stacked hamburger navigation from the mobile designs.
The hero image can be a still image, rotator, or looping background with text overlay.

And check out that silvery, highlighted live stream countdown timer. This can appear in the days leading up to your services and then disappears to not clutter up the layout during the other days.


Carmichael comes with a campus selector built in, with a drop down functionality. When you select a campus, a map appears with markers and more details. If your church doesn't have multiple campus locations, this overlay can simply be turned off without disturbing the overall design of the theme.


The Sermons section can display an option to have a playable video or an image. This allows you to use your current technology and still gives you room to grow.

We love it when you can highlight the things your church is up to. Using the Ministries section, you can do just that! This theme uses a carousel style, allowing the user to click through to display more ministries and easily learn more about how to get involved.


Is is too dorky if we're excited about the website footer, too? In this theme, the footer includes a newsletter signup form in addition to the "regular" stuff like church contact info and social media links.
Don't just look at this e360 Theme in a bunch of tabs in your browser.
This theme looks great on mobile devices! Seriously, take a second and go open this link on your phone. You can use the links in this blog post, or type out mk039.monkpreview.com
It looks sooooo good. Open those menus, scroll thru the home page, those images are just so crisp.
But That's Not All!
CARMICHAEL was designed to give you the ease-of-use you're used to, but also with tons of flexibility built right in. This theme comes standard with the following layouts: Homepage, Subpage Default, and Subpage Fullwidth. Plus some options for a blog, events, calendar, staff, and sermons. Check out the full list here.
AND, If you know anything about Ekklesia 360, you probably know that we SPECIALIZE in churches -- and helping you build great websites. One of the ways we do that is with our additional tailoring options: Ministry Focused Layouts.


All New e360 Themes Include Font and Color Picker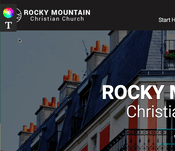 It's not really "new" anymore -- it's been included for about a year now -- but we're still really excited about how you can use the updated Font and Color Picker on all our e360 Themes. If you're logged in to your site as an admin, you can activate Easy Edit mode and use all the features of the updated Font and Color Picker menu. It's in the upper left corner of the Demo too, so you can see it without bothering to log in to anything.
Our designers have set up combinations of header and text settings that will keep your website looking great. But also give you options! Start a Demo today and give it a try. Just imagine what your church can do with an e360 Theme like CARMICHAEL. Or any of the others.
With e360 Themes like CARMICHAEL, we take care of the details so you can take care of your community.