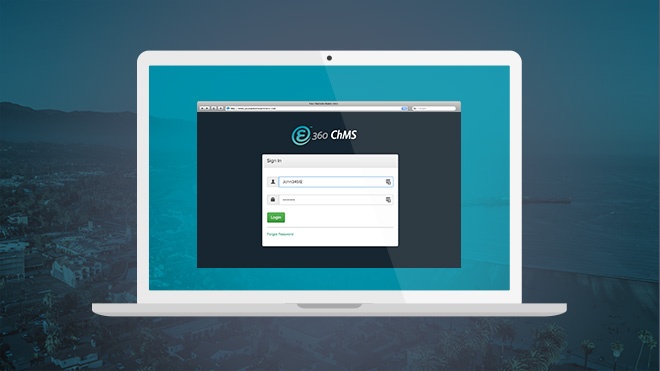 We're super excited to announce the release of a new church management system, e360 ChMS. You're probably already "managing your church" -- but do you have a system? Is your whole team on the same page? Can the parts of your system talk to each other and integrate with your website or giving tool?
Some of our Favorite e360 ChMS Features
Of course e360 ChMS can do all the "standard" things you've come to expect:
Interact with Your Community
Manage your Congregation
Understand Giving Data (native integration with e360 Giving)
Check-In for Children and Event Attendance
Send Mass Communications like email and text/SMS
Keep an Organized Calendar -- and only keep one
Create Ministry Process Workflows
However, there are a few areas where e360 ChMS really shines. We know you could be using a pile of Google Docs or an old phone tree -- and if it's not all the way broken, why fix it, right? But it can be a whole lot better.
Imagine if you could schedule content in advance. Imagine if you could coordinate event RSVPs and payments. Imagine if you only had to keep track of one mailing list. Imagine your congregation automatically updating their own contact information. Imagine if you could easily track and request background checks. Imagine only keeping track of one church calendar.
That world is here.
e360 ChMS can do all of that and more. And it's not imaginary. Ok, we can't promise that your congregation actually will update their own addresses. But the functionality is there. They can. Best of all, it's integrated across your Ekklesia 360 website and e360 Giving accounts. The admin account is all in one place and the user accounts merge and are easy for your users to manage, too.

Integrate Your Events and Keep ONE Organized and Simple Master Calendar
Manage event registrations and resource request approvals, improve coordination of staff and volunteers, schedule rooms and equipment. Imagine if it was all on one calendar. Sync your ministry calendars onto your church website.
After you get the basics covered and get everyone on one calendar, the next logical step in our imaginary universe is to plan it all in advance. And you can do that, too!

Create Ministry Process Workflows
Do you find yourself repeating processes? For example, do you follow the same steps when following up with a new visitor? Do you send class content or introductory volunteer information? Automate those tasks -- so you can focus on the people. Get back to the things you love.
Pricing
We know how absolutely important the price is when you're making the right choice for your church. We're so excited that e360 ChMS starts at just $40/month. And there's NO SETUP FEE. You can see an overview of the pricing structure here.