Happy New Year! We are excited to hear about the exciting plans that ministry partners are making this new year to grow and engage your ministries. Let's take a look back at the many, many times you inspired us in 2019. Plus, we have a sneak peek of what to expect this year.
New Ministry-Focused Layouts
Churches were able to enhance their visitors' website experiences with the four strategic, ministry-focused layouts we released in 2019.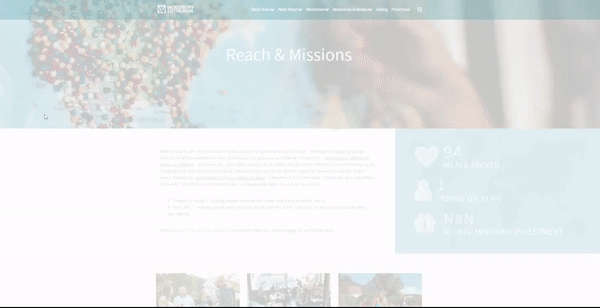 The Missions Layout serves as a landing page for churches to share their missions opportunities, both local and abroad, in an engaging way. Complete with animated stats and a missionary map, this layout connects visitors with ways to serve and highlights the projects their donations support.

The example of our Missions Layout above is Woodbury Lutheran's missions page, which launched just after Easter 2019. According to Jon Kuehne, Pastor for Multisite Ministries, is the results have been very positive. Their version of the page in packed with helpful information. Interested members and guests can use of an interactive map and sections to learn what opportunities are available and read about the 15 field missionaries their ministry supports. "Interaction with missionaries has greatly increased," says Kuehne. "This page allows us to celebrate missions," he says, "and it has prompted conversations about new missions."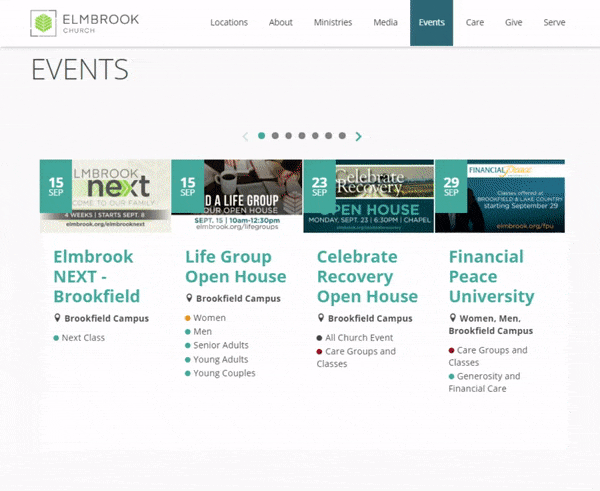 Events 4 is the great for organizing all your many ministry events — and is especially ideal for multi-campus churches. This layout allows the user to search through all events, while the most important ones are brought to their attention.

With the Events 4 Layout, a church like Elmbrook Church can easily promote their events in a way that makes it a cinch for people to find what they're looking for. A campus filter can be used, color-coding options are available for event categories, and featured events can be shown at the top. Plus, users can choose list view or calendar view, The mobile device view lets visitors easily swipe through featured events.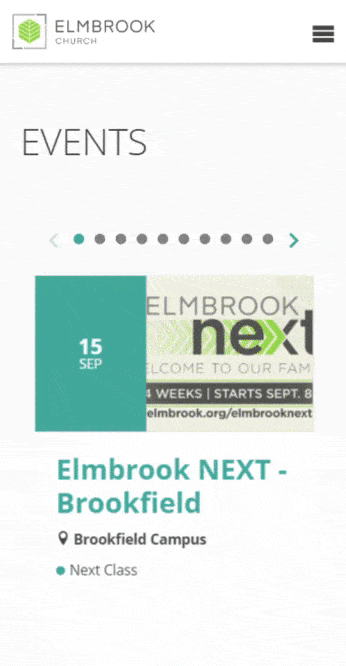 Class Finder Layout (Examples, Central Valley School of Ministry; Church of the Incarnation)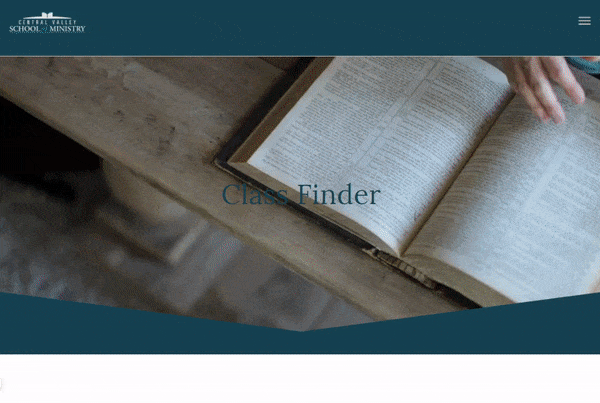 The Class Finder layout that was released allows church members to see all current and upcoming classes in one space. All the needed information can be included, and it's set up in the Events module, so once a class ends, it disappears from your website with no additional work. Several of our customers, including Central Valley (shown above) and Church of the Incarnation (below), have found this layout to be extremely beneficial!


A list view of all classes is available and each class detail page can include necessary information, including teacher, categories, childcare, cost, location, and more.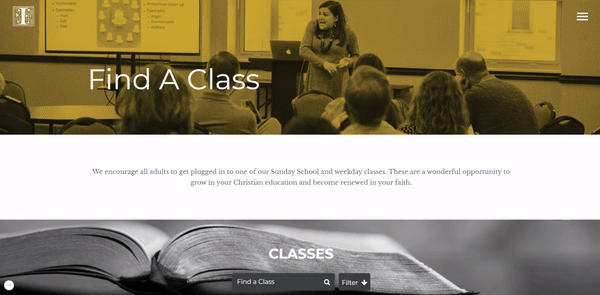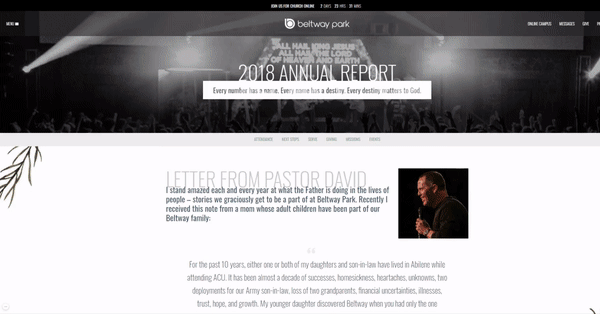 Many churches create end-of-year or annual reports to showcase their numbers for the year. Our new Annual Report Layout helps churches, like Beltway Park (shown above) convey this information online in an engaging, informative way. This layout is great for sharing both numbers and image or story-driven content, so it can serve a variety of styles to show where your church is using their time and resources. Beltway Park did an amazing job of using year-end church metrics to highlight how God has been working in their ministry.
New Theme: Trotter aka MK040 (Examples, Westside Community and Mosaic Church)
The new Trotter theme delivers ease-of-use and tons of flexibility. It includes pre-designed ministry-focused pages for sermons, story articles, blogs, events, and staff. Each layout uses a research-backed wireframe template created to show your church's organizational structure and contact info for individual team members. This mobile-first church website design theme includes pre-designed ministry-focused pages for sermons, story articles, blogs, events, and staff.
Some recent and inspiring launches of sites using Trotter are Westside Community Center (above) and Mosaic Church (below).
Check out how amazing Trotter looks on mobile: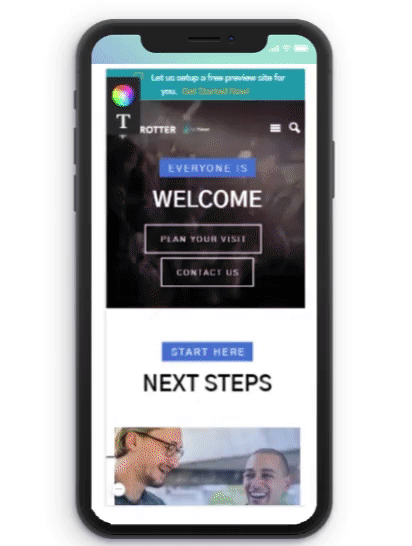 Features and Events That Support Your Ministry
Interactive Sermon Notes (Example, College Park)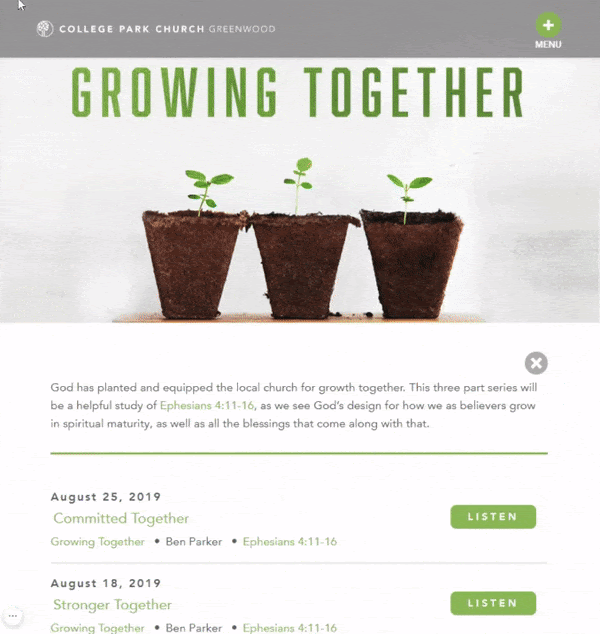 The Sermon Layout offers built-in interactive sermon notes. Viewers can type in their thoughts and fill in key takeaways while following along. They can also be auto-filled or even downloaded and printed. Check out how College Park Church (above) is engaging their viewers with fun, interactive notes.
Integrations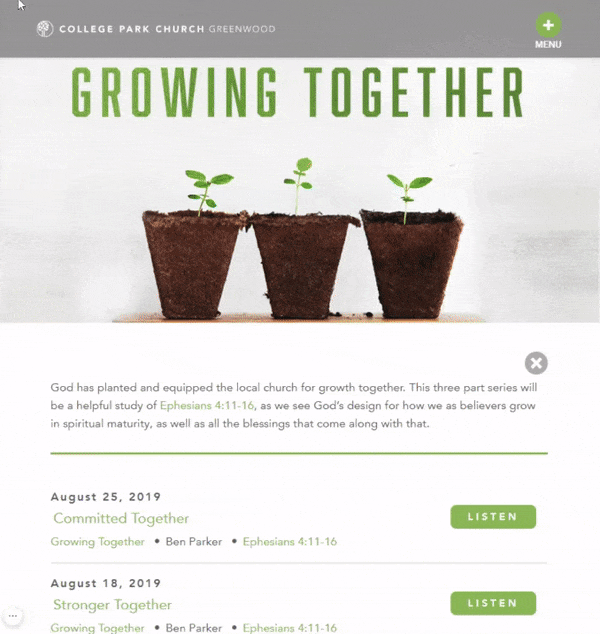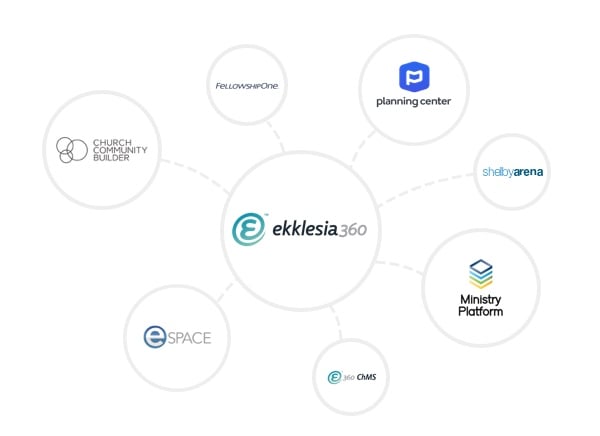 And on top of all that, we've created integrations with popular church software platforms! Ekklesia 360 is highly flexible and integrates with many church management solutions and other products? If you have a ministry tool, chances are we can connect it to your website. Contact our team to learn what's possible.
Communicating Christmas Webinar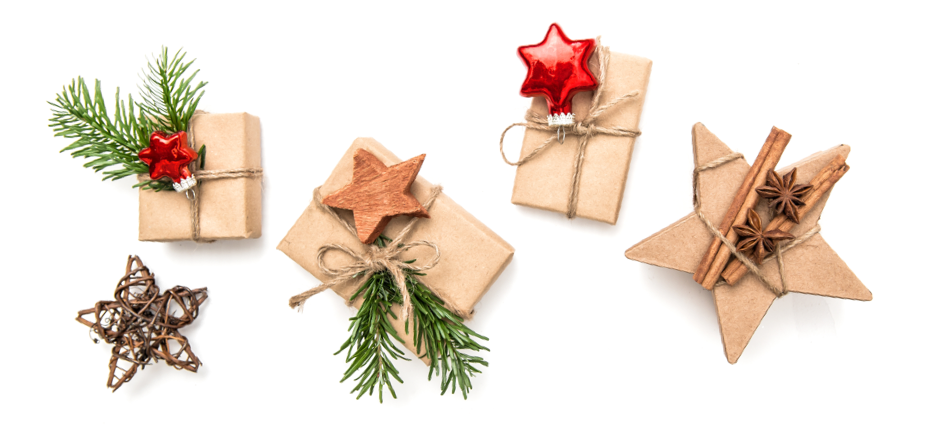 We hosted a webinar just for church communicators in November and it was a blast. Church communication thought leaders gave actionable advice on strategizing website marketing and other communication methods to build out engaging Christmas experiences. A Q&A session followed. A huge thank you to Jordan Fowler from Moon & Owl, Laura Anne Haywood from RollingHills.church, and Ekklesia 360's very own AJ Fenlason.
More Bible Passages

If your ministry uses multiple main passages for your weekly messages or sermons, this release was for you. You now have the added ability to assign multiple Bible passages to a single sermon item within Ekklesia 360. This process requires an update to your existing layout, and we're ready to help.
The Church Website Report Card
This ten-question quiz help you determine the state of your church website. No cheating!
Additionally...
We released new media analytics, page and section categories, custom emails for Prayer Cloud, syncs for both Youtube and Vimeo, the ability to import articles, branches and blog posts, improved search, and increased the bulk file size upload.
Looking Forward to 2020
We are excited for what's to come! Be on the lookout for:
New theme with PWA functionality
Additional themes and layouts
UI refresh
Page editor enhancements
And more to come!