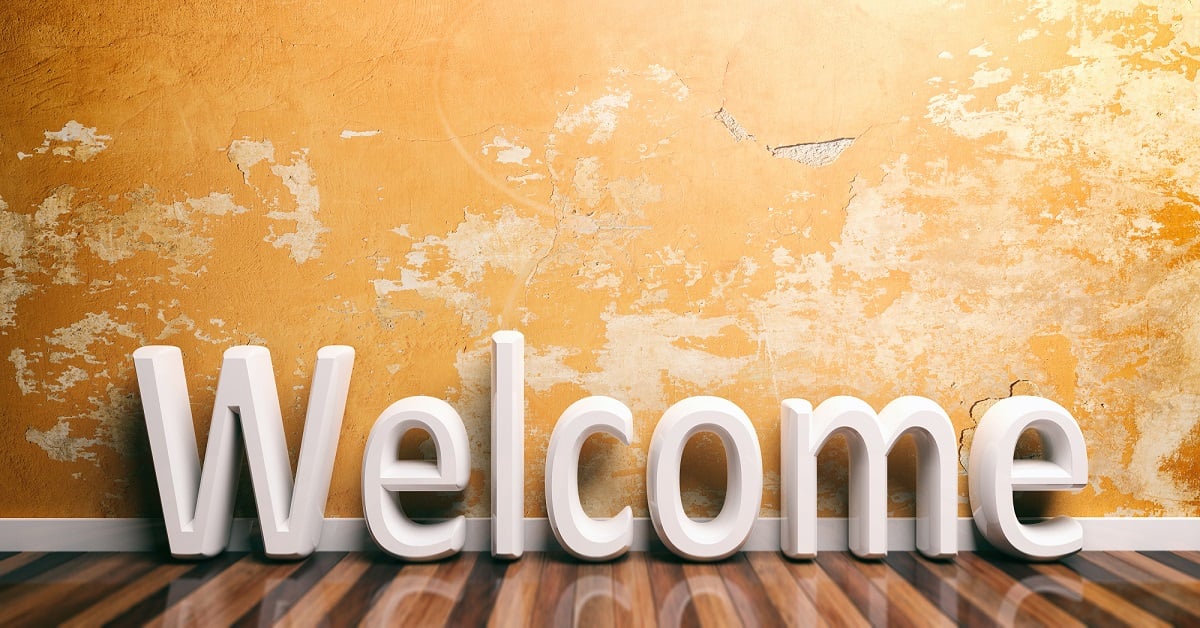 Most of the time when churches think of welcoming newcomers, they think of placing people at each door someone could walk through on a Sunday morning. While this is a vital piece to welcoming new guests, it's not the only area a church should focus on. After looking at successful churches across the country, we've developed a list of 9 strategic ways to welcome new church visitors that are sure to make a lasting impact.
Ways to Welcome Church Visitors
1. Hang Signs
One of the most important ways to make people feel welcome is to equip them as soon as they walk through the door. Nothing makes someone feel more disoriented than not knowing where to go when they enter a building. Place strategic signs as soon as people walk through the door that points them to the areas they need to know. Here's a list of strategic signs to create to get you started.
Nursery
Children's Ministry
Youth Ministry
Restrooms
Cafe
Sanctuary
Welcome Center
2. Set Aside Time During Worship to Welcome Church Visitors
As your worship begins, be sure to set aside time during the service for people to welcome those sitting around them. This doesn't have to be an awkward encounter. If you set aside this time at the beginning of the service, encourage your church to ask those around them about their weekend. If you set aside this time at the end of the service, encourage people to invite someone they don't know out to lunch to get to know them. The point of this time is intentionality, and the more intentional you can be from the stage, the more intentional people will be in their response.
3. Welcome Church Visitors at Each Entrance
This is an important strategy to get right. When newcomers visit your church, they are often nervous when they enter the doors for the first time. Ironically enough, the greeters are often nervous, too. Because of these jitters, it's important to equip these individuals with a few set sayings they can use when people enter your church doors. Doing so helps relax them as guests approach each week. Here are a few great phrases to help your greeters be successful.
Welcome to [church name] this morning!
Good Morning! We're glad you are here this morning.
Hello! Welcome. I've not met you yet! I'm [insert name].
4. Optimize Your Website to Welcome Church Visitors
Your church website is likely the first way a visitor engages with your church. Consider dedicating a page of your website specifically to helping new visitors understand your church's mission, services, and details that will welcome first-time guests. Ekklesia 360's New Here Layout is designed to do just this. It shows new church visitors exactly what they will encounter when they visit your church. From service times, parking locations, and dress code to teaching style and worship style, it allows visitors to get a feel for your culture before entering your doors.
Take a look at how SeaCoast Grace Church has laid out expectations on their "I'm New" page.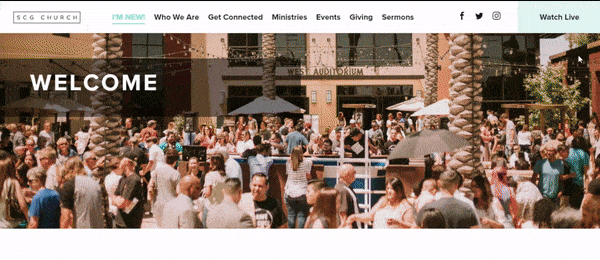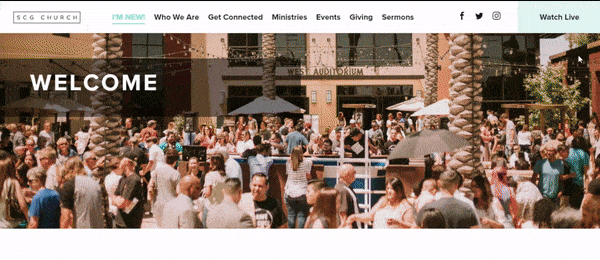 5. Strategize Social Media
Another area people often forget about is their social media accounts. Making sure all information someone might need in order to visit your church is readily available helps people get to your church with ease. On your social media accounts, make sure your bios have the address of your church along with specific service times. If there is additional information your church has that could help someone feel comfortable, add that too. Don't forget to integrate your follow-up plan with your social media posts to gain greater traction.
6. Place Guest Cards on Each Seat
It's inevitable that you will have visitors who are extroverted and introverted. Many guests prefer to observe rather than involve themselves. One way to gather their information is by placing guest cards on each seat in your sanctuary. This gives visitors the opportunity to fill it out at their leisure with no pressure. Encourage new church visitors to leave these cards in the pocket of the seat in front of them or underneath their seats. After the service is over, you can collect the cards.
7. Promote People, Not Your Church
People want authenticity when they visit churches. Having a brochure filled with information about the history of your church does nothing for newcomers. However, placing a brochure that lists all the ministries your church offers along with pictures of people they will see each Sunday helps visitors see how they might engage and grow spiritually.
8. Follow Up with Church Visitors
Following up on each new church visitor every Sunday is vital to the success of your church. Here are some examples of ways to do so:
Call from a church office phone number so the number shows up clearly a person's caller ID, rather than showing up as an out of area cell phone number.
Email from the pastor.
Send out a postcard that reads "We Hope to See You Sunday!" It should arrive a day or two before your next service.
Text message from someone they met or could connect with at their next visit.
Email with a link to small groups.
Post content on social media inviting new church visitors to come to your service tomorrow.
Connect with them at church.
Scheduling these types of follow up tasks in your church management system makes them easy to automate as workflows. You can identify which person on your staff or volunteer should follow up. You can also see when each person has done their task so you know your visitors are being contacted intentionally.
9. Hire a Security Team
Nothing makes people feel safer than seeing a security team at a church. Studies have shown that having security at a local religious gathering helps people feel safe, rather than constantly worrying about what could happen. These studies also show people have greater confidence in a church's children's ministry because they know their children are kept safe.
Overall the most important piece to any welcome plan is hospitality. Find someone on your team who can help you strategize a great welcome plan. Having a plan is where it starts and loving people along the way is what will help keep you going.