While your church website should be the go-to place for people to find your service times, look up your address, and even learn more about events and small groups, it should serve a much bigger purpose. Your church website has the potential to actually get people back into ministry.
These may be people who have moved and haven't found a church home, who now work on Sundays and need to engage at other times, or people who have simply fallen out of the habit of attending church. No matter the circumstance, your church website should offer tools, resources, and options that attract visitors, help people take the next step in their faith journey, and even serve as an avenue for the Lord to move.
Take a look at these six ways that your church website can help to get people back into ministry. Then, check out an example of a church that is doing just that.
1. Highlight Missions on Your Church Website
Getting People Back Into Ministry
One of the best ways to get people back into ministry is to provide opportunities for people to serve and spread the message of the Gospel. Taking a mission trip, participating in a service opportunity, and giving to a cause your church supports could be just what someone needs to plug back into your church. Not only does missions spur on personal growth, but it also strengthens the unity of your church as well.
Ekklesia 360 Ministry-Focused Layout
Missions Layout: This layout serves as a landing page for missions opportunities at your church, both locally and abroad, and includes animated stats, sections to highlight trips and opportunities, and a missionary map.
Church Example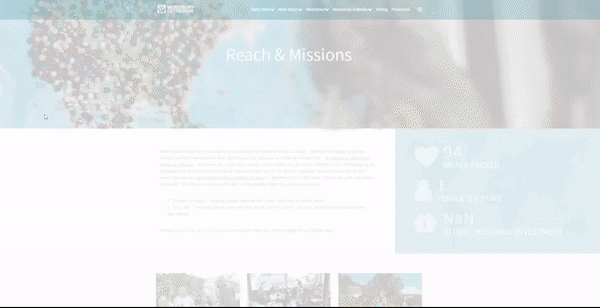 2. Make Finding Classes Easy Online
Getting People Back Into Ministry
Small groups are the heartbeat of most churches. This is where people connect, grow, and fellowship. Connecting people should be a website priority. One of the easiest ways to do this is to make finding a class simple. The easier it is for people to search through the options, narrow down results, and find classes designed just for them, the more likely they are to jump back into ministry.
Ekklesia 360 Ministry-Focused Layout
Classfinder Layout: This layout
allows church members to see all current and upcoming classes in one convenient spot. They can filter by category, day of the week, or even childcare options. You can highlight classes happening this week (or ones that are starting soon), so no one misses out. Plus, there's a list view of all available classes. Each class detail page can include all essential information, including teacher, categories, childcare, cost, location, and more.
Church Example

3. Show How Amazing Your Children's Ministry Is
Getting People Back Into Ministry
According to a study by the Barna Group, 17 percent of parents said that having a child helped them reconnect with the church after a long period of not attending. This means that you have a huge opportunity to reach parents who come to your church website looking for your children's ministry. Be sure to have information about security, events, class divisions, and check-in.
Ekklesia 360 Ministry-Focused Layout
Ministry Layout: This layout makes it easy to organize all of the information about your ministry in a single place. The design features a variety of images and content sections as well as highlights coming events, latest news, staff, and more.
Church Example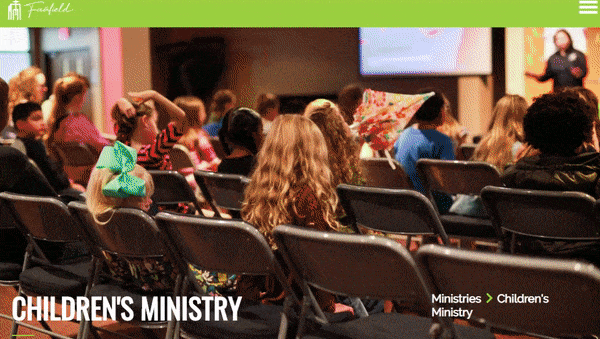 4. Live Stream From Your Site To Reach Members and Attract Newcomers
Getting People Back Into Ministry
When it comes to reaching people online, live streaming should be the primary tool in your tool belt. Live streaming allows you to connect with people who just can't physically be at your church for whatever reason. It also allows you to connect with people who may not be ready to walk in your doors yet. By tailoring your lives stream page to give people next steps and help them connect, you're setting yourself up for success in getting people back into ministry. For more on live streaming, check out this article.
Ekklesia 360 Ministry-Focused Layout
Livestream Layout: With the livestream layout, you can embed your current live streaming iframe or embed code directly into the template. It also comes with a twitter feed that pulls tweets from your Twitter handle as well as gives you options to include next steps, events, and more.
Church Example
First United Methodist Church of San Diego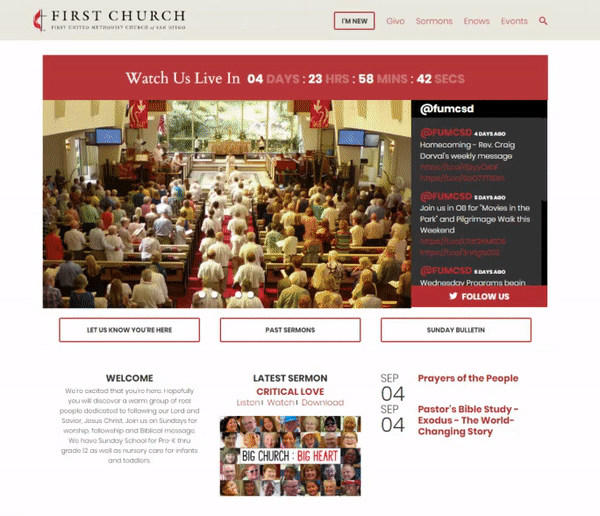 5. Prioritize Prayer
Getting People Back Into Ministry
Prayer is powerful. Jesus even told His disciples in Matthew 21:22, "If you believe, you will receive whatever you ask for in prayer." When you make prayer a part of your custom church website, it creates an avenue for people to participate in intercessory prayer and encourages those with prayer needs to connect with your church. Dedicate a page of your site to prayer requests so that site visitors can pray for each other and submit new requests. It will serve to connect members and remind them that your church consists of people who care enough to pray for each other.
Ekklesia 360 Ministry-Focused Layout
Prayer Layout: This layout helps your church prioritize prayer by displaying a list of prayer requests. Prayers can be submitted anonymously or with personal information displayed as well as the option to be contacted. Other sections on the page highlight resources that visitors might be interested in such as sermons, blogs, support staff, small groups, events, and more.
Church Example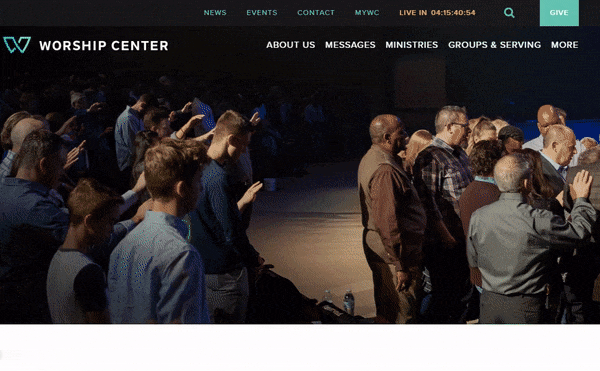 6. Start a Blog
Getting People Back Into Ministry
Blogs are the perfect way to create content designed to minister to people, encourage them on their spiritual journey, and keep them informed about the work of your church. As you develop a readership, these blog readers are more likely to jump into ministry and join in the work. Not only that, but blogs are the perfect content for you to share on your social media accounts and reach more people with the Gospel of Jesus Christ.
E360 Ministry-Focused Layout
Blog Layout: The blog layout makes it easy for you to publish and see the posts you publish. Plus, the list view displays full-text blog posts while the detail view displays the post's comments.
Church Example