Church branding is one of the most important factors when it comes to getting your message out to the public. Creating identity through branding attracts those who are interested in your church's mission and creates a sense of community for members. The good news is that church branding doesn't have to be a daunting task. You just need to know which steps to follow. That's why we've created an easy to follow step-by-step church branding plan that will help you and your church get your message out to your community.
Step 1: Define Your Church Brand
Defining your brand is an important first step because it is what will help all other branding pieces fall into place. So, gather your communication team and key leaders to discuss these four questions:
What is your church's mission?
What are the benefits and features of your church that sets you apart from other churches?
What do people currently think of church?
What qualities do you want them to associate with your church?
Answering these questions will help you create consistency across all pieces of your church branding.
Step 2: Design Your Church Logo
Whether it's designed in-house or you outsource the design of your logo, creating a dynamic church logo and using it everywhere is important. A strong logo can increase public awareness and help the community associate your church with the message(s) you publicize. Your logo should be used on every single printed and digital material your church produces, including your church website.
Step 3: Establish Your Church Brand Messaging
Refer to the four questions you defined in Step 1. Write down a list of phrases and messages that align with your mission and vision. Here are some popular phrases used by churches:
Love God. Love People. Make Disciples.
Those who find God, find life.
Gathering together. Building up. Sending out.
Greatest of these
Create a simple, yet powerful message for your church and repeat that message in the verbal and written dialogue in which your church engages — from the pulpit, in staff meetings, and especially on your church website and printed materials. The more you repeat your mission, the more people will understand and embrace the heart of your church.
Step 4: Find Your Church's Voice
The next step is to find the voice you want your church to have. Do you consider yourself to be a formal church? Try using language that fits formality. Are you more laid back? Use more informal language that speaks to the individuals you're attracting. Creating consistency with the type of voice you use will draw in people who are attracted to you and your mission.
Step 5: Use Your Branding on Your Church Website
The next step is to create a dynamic church website. Your website is where current church members will go to get information and it's a place where new people will visit to learn more about who you are. Having a website that's easy-to-use is key to engaging both of these groups.
Creating a well-branded and strategic website doesn't have to be complicated. Our team here at Ekklesia 360 is here and ready to help. You can use one of our mobile-friendly templates, or work with our team to create a custom church website. We offer free consultations to assess your church website and help you strategize improvements.
Step 6: Be Consistent
Lastly, be consistent. Whether you are on your church website or looking at the weekly printed bulletin, you want your congregation to recognize your church branding. Use the same fonts, colors, phrases, logos, designs, etc. Being consistent with your church branding will enhance the message you want people to hear and further your mission.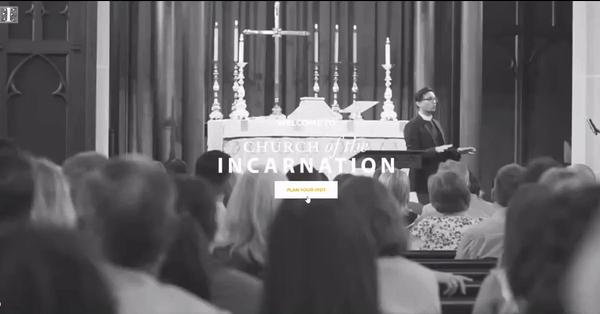 The Church of the Incarnation's website offers a great example of how strong church branding can be used to introduce a church's identity, welcome new visitors, and remind members of your church's mission and how they can further engage and serve.