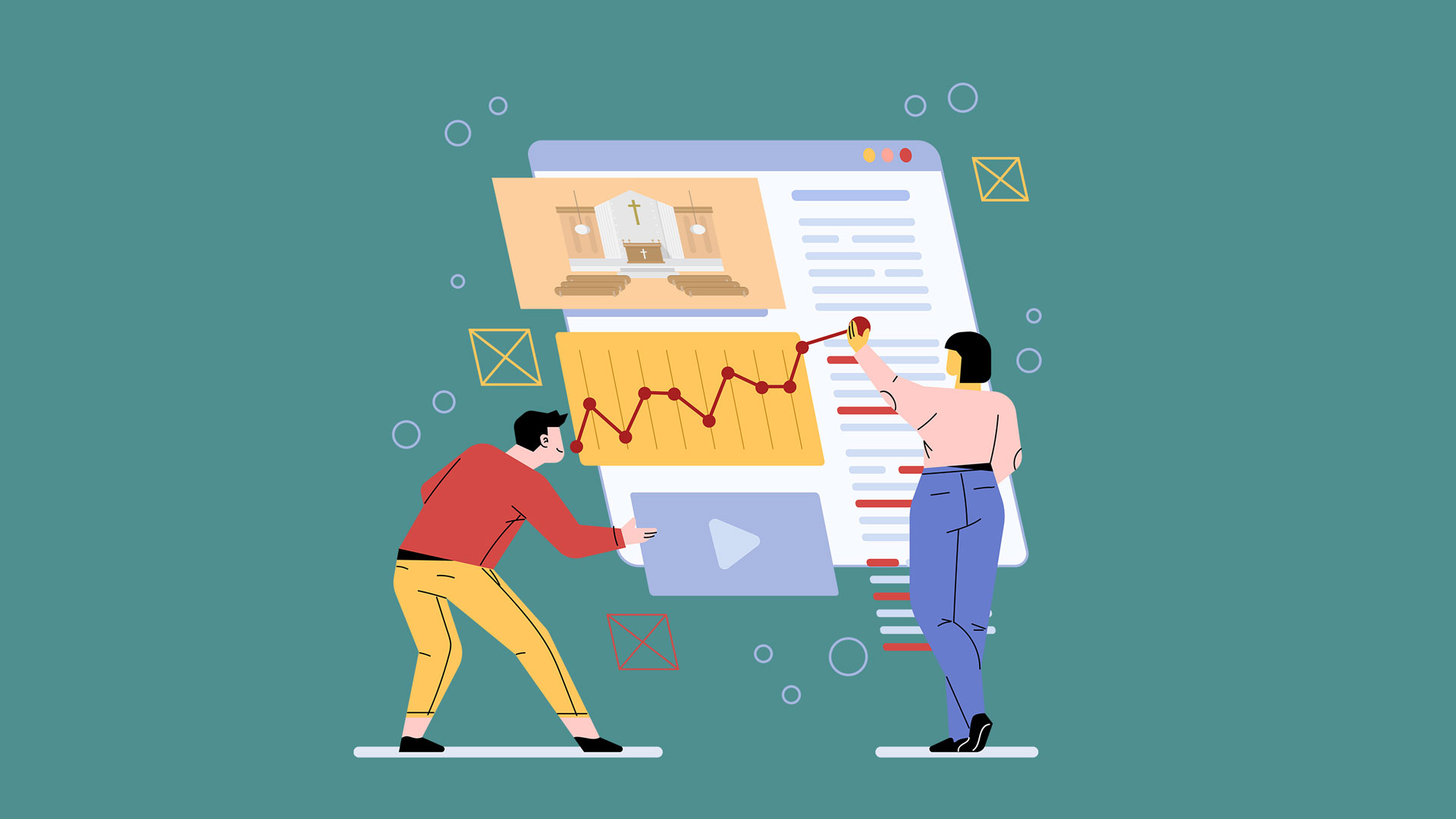 From livestreamed services, to virtual Sunday school, to printable devotionals, websites are the doorway to the digital church—helping members worship wherever they are. Now, more than ever, it's important to know how to use your church website to give your members what they need.
Here are 3 ways your church website can thrive in 2021:
Build Up the Digital Experience
With one year of COVID already behind us, access to quality livestreamed services is now an essential part of any church website. This year, the focus is on going beyond broadcasting a church service to building an entire digital experience to engage members as they watch. Here are a few tips:
Introduce fun polls or thoughtful questions that engage virtual worshipers
Provide QR codes that worshippers can use to connect with special ministries, classes, small groups, and events
Livestream your services to a branded Apple TV or Roku channel, for enjoyment from the living room TV.
A robust digital worship service helps increase your church's reach, drive giving and annual revenue, and build deeper relationships with your audience. Don't forget to continue the conversation after by directing members to an online forum, such as a Facebook group, where they can chat throughout the week.
Establish an At-Home Resources Page
Many people are still choosing to remain at home into 2021, so a thoughtful resources page can help them worship at home and still feel connected to the church. Create a dedicated page with a button link on your website's home page and live stream pages. You can build sections with worship videos & music, Sunday school lessons, devotions, blogs, and more.
Don't be afraid to get creative with the content you offer! Things like printable devotionals, coloring pages for kids, and journal pages are appreciated by members and help families interact with each other. Make sure you provide easy ways to download or purchase content.
You can also provide information on your church's online small groups and classes. If your church is active on social media, create a private Facebook group for people to interact in each day.
Be a Storyteller
When people search for churches online, they want to get a clear understanding of not only the church's value and mission, but of the church as a living body. Your church's story draws in those who want to be a part of the next chapter and nurtures those who are already a part of it. Don't know where to start?
Ask yourself these 3 questions:
Who are the people who call your church home?
What is the personality of your church?
What 3 things do you want new people to know about you?
They say a picture is worth a thousand words… and they are right. Create a multimedia experience on your website (writing, video, photography, and audio) and you have a compelling way to tell your church's story!
Make sure your website also contains blogs/articles by leadership, worship videos, and photos of various church events. Leverage these key things together and you will be more likely to attract, engage, and retain your audience.
Let Ekklesia 360 Help You Thrive in 2021
Let Ekklesia 360 create a beautiful website for your church that incorporates the latest technologies to help you expand your ministries, care for your congregation, and reach more people in your community. Trusted by over 8,500 ministries in over 20 countries, Ekklesia 360 is  built for ministries – our website content management system is simple enough for a church plant and powerful enough for a global ministry, and is backed by a team that is dedicated to helping your church thrive.
Download our free eBook, "7 Essential Website Trends to Look for in 2021" now.