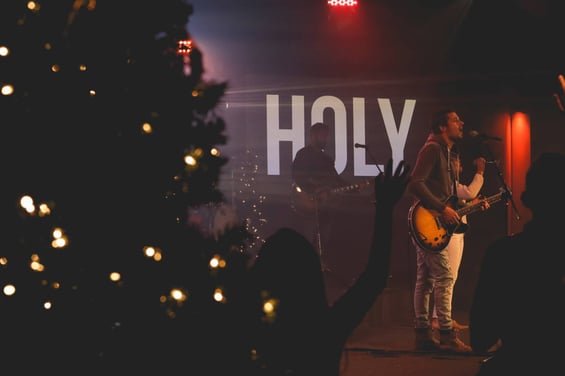 As much as we all love Christmas music, it can be a little bit of a challenge coming up with a setlist year after year for your church's Christmas services. Worship pastors often want to tie in the classics but still provide an atmosphere of worship. With the familiarity of traditional Christmas carols, it can be easy to sing along without really thinking about the reason why we're singing.
Our team connected with Pastor Ruben, worship pastor at House of the Lord Church, in order to gather some Christmas songs that will not only spark joy and nostalgia but help lead churches to worship the One whom Christmas is all about—Jesus.
Below are 10 Christmas worship songs to consider adding to your holiday setlist this year.
Here is a classic Christmas song that also has a worshipful feel. Pastor Ruben says, "The added hook helps engage the church in worship. It's not just a Christmas carol sing-along, but it can help inspire the Church to praise Jesus."
This may not be a Christmas song per se, but Jesus' name is Emmanuel—meaning God with us—which is what Christmas is about. The incarnate God coming to earth. It's about His presence being real and Him making a way for us to have eternal life in Him. He's not just a far-away God...He is close, and He is God with us.
It doesn't feel as much like a "traditional" Christmas song, but it's been gaining momentum, even among secular artists. It declares the mighty power of Christ and who He is while eliciting awe and wonder from the listener. Who doesn't get goosebumps after imagining what it must have been like to look at the incarnate God?
Pastor Ruben mentioned, "I love Christmas songs, they're good, but often they've become so familiar that people just sing them because they know it, rather than actually worshiping or engaging with God in worship. It keeps the spirit/heart of worship at the center so we aren't just merely singing a song."
This beautiful medley duet is a wonderful mashup of two classic worship songs that tie the theme of Christmas and worship together. It truly makes one adore the King of Kings.
This beautiful worship song by Terrian Woods features a mellow yet uplifting melody with a piano accompaniment that starts off slow and builds up to a rallying cry of praise and glory. Perfect for a solo or even with a full choir.
Just released this year, the slow arrangement truly makes you feel the heavenly peace. A beautiful classic with added lyrics to bring you to a sincere place of worship to celebrate the birth of our Savior.
A powerful mashup of "This Is Amazing Grace" and "Go Tell It On The Mountain," this song is sure to get the congregation singing, clapping, and worshiping! This new twist is part of Life.Church's new Christmas album, Gloria, was released in October 2021.
A beautiful, inspiring song that causes one to rejoice at the birth of Christ. Though not a typical Christmas tune, it will surely bring people to the heart of Christmas and why we honor Jesus with our lives and hearts.
Another great worship song centered around Christ and His birth. It also shares the gospel and helps us to reflect on who Jesus is and how we can adore Him this season.
Celebrate Christ's Birth with Worship
What a wonderful tradition to sing Christmas songs with your church family during the holiday season. It's even more meaningful when we get to truly worship Jesus through those songs.
Merry Christmas, from the team at Ekklesia360. If you are looking to use your church website to draw even more people in to hear the gospel this Christmas and to join you in worship, we'd be happy to help! Contact us today to get started.