At Ekklesia 360, our mission is to help your church succeed and thrive online, and our vast portfolio of church website themes does just that. Our web designers have created a new mobile-responsive design with a looping video background that will keep your website looking fresh and customized. Today, we're pleased to introduce to you, The Trotter Theme. Watch expert strategist Ashley Beaty guide you through a Ekklesia 360 video tour of this new modern theme.
Want to explore for yourself and check out the unique features your church community will love? Click through, scroll around, and try the tabs — it's all live in this preview.
---
Mobile Intentions: The Trotter Theme looks great on phones and computers.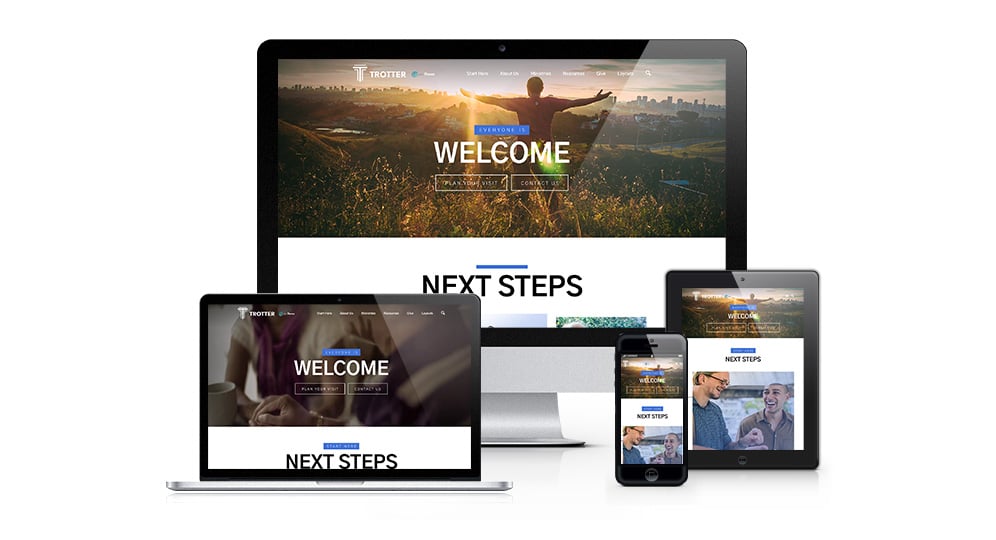 Trotter was designed to deliver ease-of-use and tons of flexibility. It includes pre-designed ministry-focused pages for sermons, story articles, blogs, events, and staff. Each layout uses a research-backed wireframe template created to show your church's organizational structure and contact info for individual team members.
Sermons
Provide your congregation with a searchable media library of sermons. Trotter's latest sermon feature provides the best watching, listening, and note-taking experience (individuals can save them as a PDF or email to themselves).
Story Articles
Share stories of life changes to inspire members and give visitors a snapshot of real-life happening within your congregation.
Blog
Spur on spiritual growth by posting devotionals, blogs, or daily scripture using the blog layout. Blogging is a great way to share inspiring stories and church accomplishments.
Events
Keep everyone in the loop and signed up for church events with an events calendar that not only displays events but helps you feature church-wide and visitor-centric events. Help parents plan schedules using category and search features and ensure registration is accessible within a click.
Staff
Show off your team! Let everyone know about your church leaders and teams by including their photo and title on your site. Have staff in multiple departments? No problem. You can assign each team member to a department of your choice. Plus, we offer a search feature that makes finding the right person quick and easy.
Customization
Customize the Trotter Theme to your specific needs through additional Ministry Focused Layouts. Reach out for a free quote on your custom design project. One of our experts will contact you right away to get started.
---
Font and Color Picker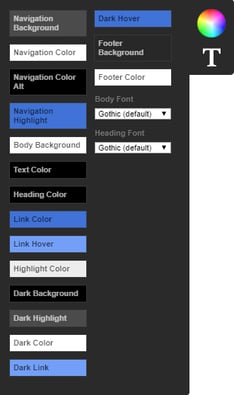 Don't forget! Consistent branding is key for any church website. That's why all new e360 Themes, including our modern Trotter Theme, include an updated Font and Color Picker.
Easily update colors site-wide to match the exact hex code of your colors and choose from our selection of pre-loaded Google fonts to change the entire look and feel of your website.
If you're logged in to your site as an admin, you can activate Easy Edit mode and use all the features of the updated Font and Color Picker menu. It's in the upper left corner of the demo, too.
---
Style Guide
To further assist, the Trotter Theme comes with a style guide fully loaded with tools to build robust landing pages using various headline styles. Block-quotes draw attention and CTA (Call-to-Action) buttons can be placed anywhere on your site.
Mobile Friendly
The Trotter Theme is responsive, which means it looks great on any mobile device. Be sure to tour it the way most people will: on a phone. Test drive Trotter today with our free demo.