If you're operating a large church, that's amazing news! Large churches have the ability to reach even further into the community to make an impact with the Gospel.

One downfall, however, is that finding a sense of community can be more difficult for people attending your church. You don't want them to get lost in the crowd or even leave the church feeling isolated and alone. In fact, not feeling a sense of community is one of the top ten reasons people leave church.

So how do you connect people to small groups and help them find the community they desperately need?
Put Info Online
By placing information about your small groups online, anyone anytime can go to your website and gather information they need about certain small groups. You can put information such as the size, meeting times, age ranges, or even whether or not kids are welcome to join in on the fun.
This also draws people to your website where they can find additional information they may or may not even be looking for. It is a great way to point people to the beholder of all church information -- your website.
Putting the small group information online will also make it easier to communicate any changes that might occur. For example, if an emergency comes up and the small group leader has to cancel that week's meeting, or change the location, members will be informed.
Ekklesia 360 also offers a small group finder that will help your members find the various small groups your church offers and one that fits your members need perfectly.
Here's an example from Faith Lutheran Church: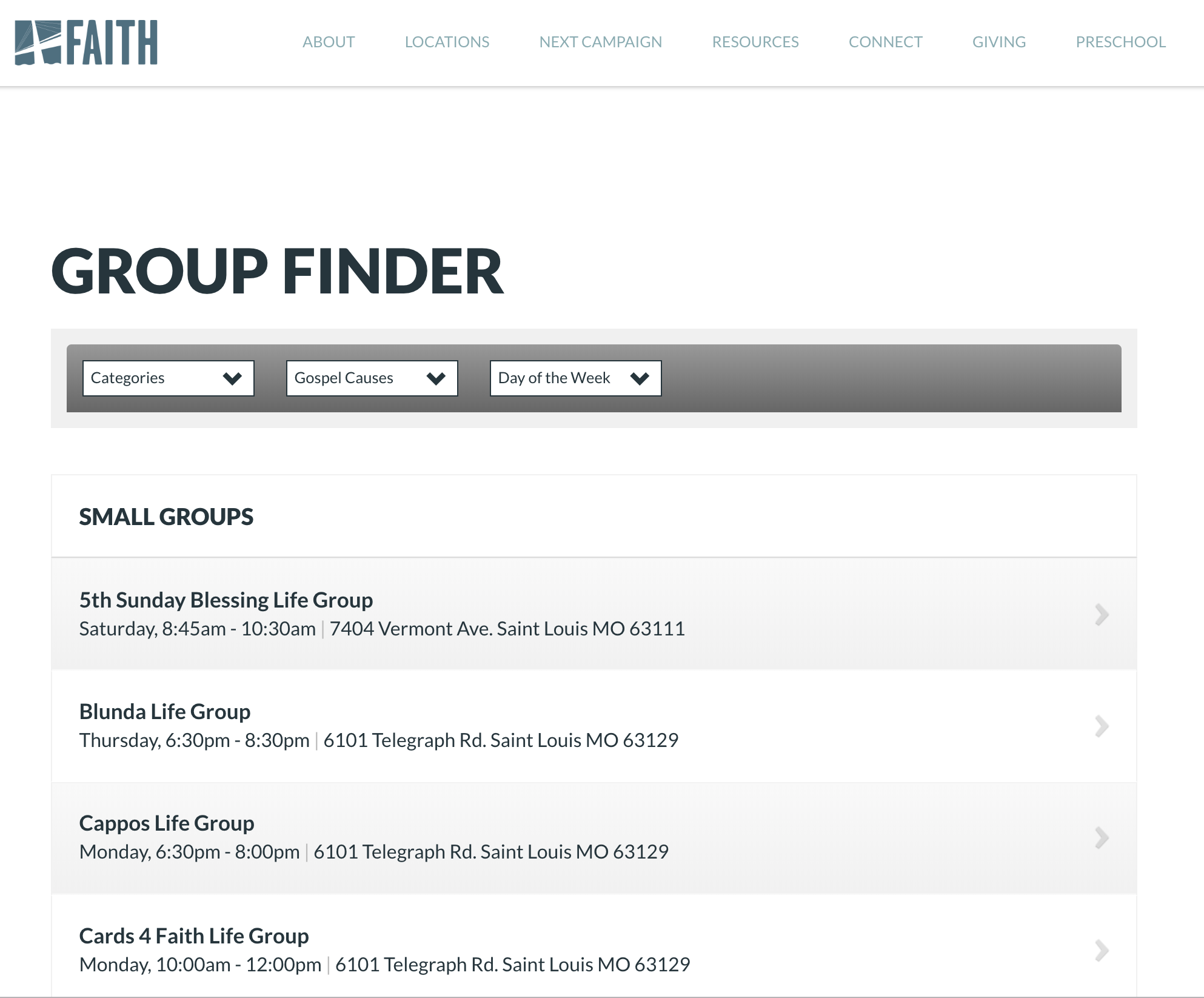 Tell Your New Members
It's quite possible new church goers aren't going to be aware of the different small groups available at your church. While having a kiosk in your atrium with information can be helpful, it can also be overwhelming for a new person to go up and ask questions, especially the shy, introverted visitors.
By placing strategic ads in your weekly bulletin, announcing from the pulpit, and having a clear navigation link on your website, you'll help new members find the information they need quickly and efficiently. Some people are intimidated by asking questions, so make it easier on them and place this information in strategic places.
Encourage Engagement
No matter if you have introverted small group members or extroverted small group members, everyone learns in different ways. Once someone feels confident about a topic, that is typically when they desire to share information they learned or are thinking about. There are several ways to encourage small group members to engage more with each other. For example, you can:
Hold meetings on a consistent basis.
Prepare group discussions in advance and send them out beforehand to let participants know what to prepare for. This also lets those who are slower processors to have more time to come up with input.
Provide food, games, or an ice breaker at the beginning of your small group that get people talking.
Plan hangouts or socials outside of your normal small group time that help members get to know each other outside of a Bible study setting. The more comfortable people feel, the more likely they are to engage in deeper, more intimate discussions.
Schedule set nights once a month or quarter where parents can drop off their kids at the church child care and small groups can spend time hanging out with each other outside the typical small group meeting time.
Make Your Purpose Clear
You never want anyone to leave your church not understanding the importance of a small group. Whether it's through helpful information on your website or a pastor's message on a Sunday morning, make sure the purpose of your small groups is clear and effective.
People need community. We all need someone's shoulder to lean on in hard times and someone's voice to shout for joy when something exciting happens. Having a solid group of like-minded people together to share this with is key in creating healthy, uplifting relationships.
Being clear about the purpose of small groups will help to get people excited about getting involved, plus it will make every member feel that they too, have purpose.