As the end of the year approaches, you have an exciting opportunity to use your church annual report to share all that the Lord has done in and through your congregation. This report has the potential to be so much more than an excel sheet full of numbers. It can highlight specific and dynamic ways your church is experiencing growth, impacting your community, and reaching people far beyond your walls.

This year, be missional with your church annual report. We've compiled some end-of-year church metrics you can use to communicate the impact your church has made in its mission of glorifying God.
Get Inspired
Before jumping in, take a look at how Beltway Park took their end-of-year church metrics and created a digital church annual report on their church website designed to show off what God has been doing in their congregation.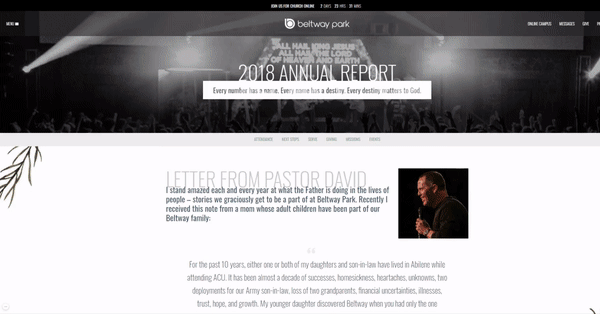 5 Ways to Be Missional With Your Church Annual Report
Create Excitement About Attendance Increases in Your Church Annual Report
Including how many people attended your church the past year can provide great encouragement to those looking at your church annual report. You're presenting how many people are actively involved, attending, and in relationship with Christ. Consider breaking attendance numbers down into categories, such as:
Total worship attendance
Worship attendance per service
Small group attendance
Children's ministry attendance
After school program attendance
Other events attendance
Reveal Ways People Connected in Your Church Annual Report
Another great way to show your missional impact is by promoting the number of people who took the next step in various areas of your church. Baptisms, church membership, baby dedications, and other key areas of your church are great places to start. Give shoutouts to specific ministries and their different types of outreaches so your church members become aware of potential next steps they might take. If there are individuals in your church you would like to spotlight, include their personal testimony as a way to further show the impact your church made throughout the year.
Showcase Ministry Involvement in Your Church Annual Report
Service is a great area to highlight the missional impact your church as not only in your congregation but also in your community. Highlighting the types of service completed by your church members doesn't have to always focus on the financials. Try promoting your missional impact in these areas:
Food pantry donations
Families helped through benevolence ministry
Manual labor volunteers
Local outreach volunteers and people reached
One way to expand on this impact is by including a video of an individual impacted by the service your church provided. It adds a human touch to your church annual report.
Share Stories About the Impact of Giving in Your Church Annual Report
The most common piece included in every church annual report is a section highlighting giving. Some churches often include one line that says "This year's giving totaled to be $xxxx.xx," but what if you took that number and broke it down so it was easier to understand the impact? Include stories of what tithes went toward, such as a mission trip or benevolence fund. Here are some ideas on how to break down the topic of giving in your church annual report:
General fund
Building fund
Local outreach
Deacon benevolence
Cooperative program
International missionary support
Other missions
Additional funds
Celebrate the Success of Events in Your Church Annual Report
Throughout the year, your people in your church hosted events, attended events, and planned events. Highlight these in the church annual report so people can see the different groups you are attracting. Break them down into age groups or types of events so it's easier to understand. If you have five or more ministries at your church, try highlighting each ministry and the events each ministry held.
Be sure to report on how many people attended, decisions made, and the number of volunteers who showed up for each event. If you are promoting your church annual report digitally, include a link to the upcoming year's events so people can see the ongoing impact you're making as a church.