Building a church website without strategy is like an architect building a building without a floor plan. Chances are it's going to be messy, ineffective, and even detrimental to the original purpose. Church website strategy isn't just something that sounds good in theory, it can be a very practical tool to help your church experience growth so that you can spread your mission for the sake of the Gospel.
Church website strategy starts with goal setting and evaluation and moves into problem-solving and implementing solutions. When done correctly, this can help your church website become more than a placeholder online. It can help you to further your mission, move people towards next steps, and take the Gospel further than you thought possible.
Building a church website strategy isn't as hard or as complicated as you may think. The experts here at Ekklesia 360 have broken it down into three simple steps below. Plus, if you feel like you need a little bit of extra help, you can always sign up for a Mission Online Assessment (MOA) where an e360 strategist will help you understand who you are as a church, what your mission is, and how to develop a church website strategy that grows your community.
Step One: Define Your Goals
Goal setting is crucial to the success of your church website strategy. If you don't know where you want to go, you'll never get there.
Gather together a small team of key leaders in your church and work to answer the following questions:
What do we want our church website to accomplish?
What areas of our current church website work? What areas don't?
Can church visitors find what they're looking for? What about members?
How many site visitors would we like to attract weekly?
Does our church website further our mission and the Gospel of Jesus Christ?
Then, use these answers (among others) to establish SMART goals. Once you have these goals defined, you will have a "map" of priorities and next steps. As always, make sure that these goals line up with the mission and vision of your church.
Step Two: Analyze Your Current Challenges
Once you have defined your church website goals, it's time to look at your current church website to identify challenges and pain points. These will help to shape your overall church website strategy.
There are two main areas to focus on here:
What do people say about your church website?
What do the metrics show you?
When it comes to discovering what people say, consider sending out a church-wide survey about your church website. Let members answer and give feedback anonymously. This will give you a good idea of how you are measuring up.
Next, when looking at metrics, make sure you are looking at the right things. This includes the most viewed pages, conversion rates, traffic, and online giving. For more on each of these, check out this article.
Step Three: Work Towards The Solutions
The final step in building a church website strategy is creating solutions that accomplish your goals and overcome your challenges. This will look different for every church and can range from making minor website tweaks to completely overhauling your site.
Take a look at how the three churches below implemented solutions that work for them: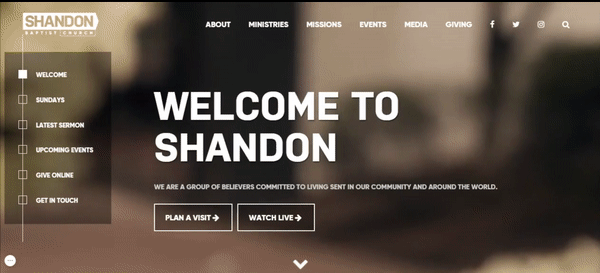 Shandon wanted to redesign their site to both engage a younger age demographic and cater to their current members. We worked together to create a site that was mobile-friendly and easy to navigate by creating full-page sections on the homepage that focus on one subject at a time.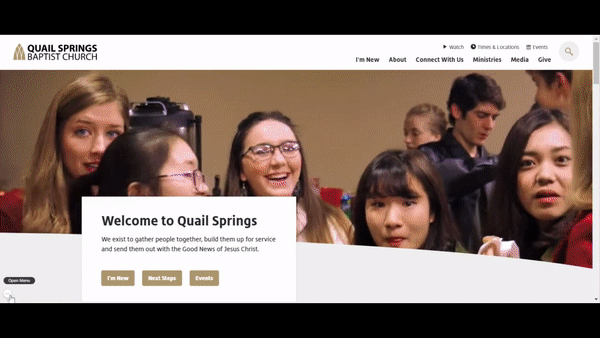 When Quail Springs was ready to redesign its site, we started with a Content Strategy Project where we nailed down some key goals. The QSBC team wanted to make sure that everyone from visitors to long-time members could use the site to engage primarily in worship and small groups. With that, we set up easily accessible content that directed website visitors to serve, give, and connect.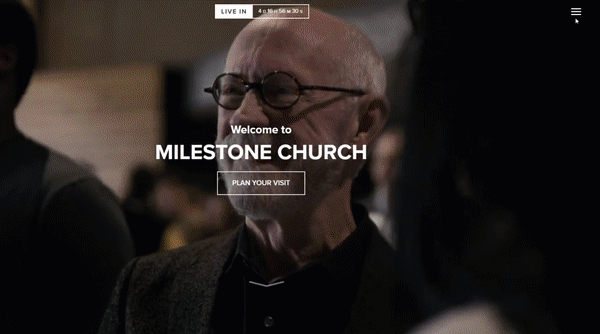 Milestone Church's goal was twofold: ensure their site was easy to navigate and make it easy for users to interact with the church by watching sermons, sharing stories, and engaging in missions. By customizing their website to point toward these interactions and focusing on intentional design, Milestone was able to accomplish these goals.